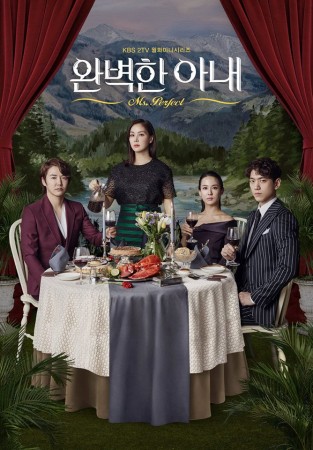 Ms. Perfect, which is also known as Perfect Wife, is an upcoming KBS romantic comedy thriller series scheduled to air at 10pm KST on Mondays and Tuesdays from February 27. It features Shopping King Louie actor Yoon Sang-hyun and Beat actress Ko So-Young in lead roles.
Watch Hwarang episode 19 live online: After Han-sung, Queen Mother Jiso to meet her demise?
The period drama revolves around the life of an ordinary woman named Shim Jaebok, who struggles to make both the ends meet because of her troublesome husband Koo Jung-Hee. It follows her as her life turns upside down after she encounters an unexpected incident.
The promo for the romantic thriller begins with a conversation between the title character and a pretentious lawyer named Kang Bonggoo, played by actor Sung Joon of Madame Antoine fame. It shows the female lead confronting the defence attorney for not helping her out in a legal battle.
The sneak peek video also features a conversation between Baek Sun-goo's character and the male protagonist. The two are likely to portray a manager-staff relationship, as the clip shows the former scolding the latter for making some series mistake in his work.
The trailer also introduces viewers to a suspicious woman named Lee Eunhee. The character is being played by The Concubine actress Cho Yeo-Jeong and she is likely to be the female antagonist in the KBS drama.
Other celebrities to be featured in the mini-series, written by Yoon Kyung-Ah and directed by Hong Seok-Ku, include Im Se-Mi, Kim Jung-Nan, Jung Soo-Young , Nam Gi-Ae, In Gyo-Jin, Park Jun-Myun, Jeon Se-Hyun and Kim Kyu-Cheol.
Meanwhile, the fans of Shopping King Louie are eager to know if their favourite onscreen couple Im Se-Mi and Yoon Sang-Hyun will be sharing screen space with each other in the upcoming drama. But since the description of the Secret Love actress is yet to be revealed, her followers will have to wait a little longer to know more about it.
Watch the trailer for upcoming KBS drama Ms. Perfect below: