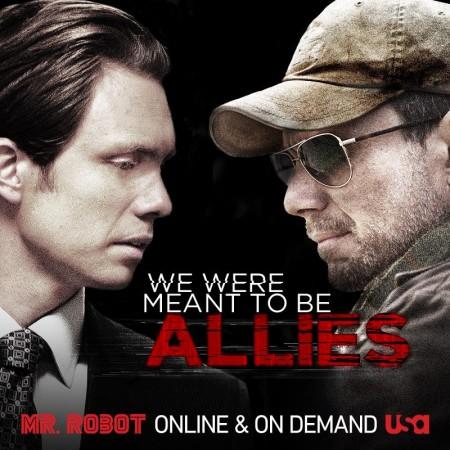 USA Network has announced that a special one hour episode titled "Mr Robot_dec0d3d.doc" will be premiering on the network on June 20. The special will explore the authenticity and societal impact of Mr Robot (Christian Slater).
In a recent press release by USA Network, it has been stated that the special will cover the dramatic events of first season of the series and the details of whatever would be coming in Season 2.
"Mr Robot Decoded" will feature commentary and interview with series creator Sam Esmail along with the prominent cast members, including Rami Malek (Elliot Alderson), Christian Slater, Portia Doubleday (Angela Moss), and Carly Chaikin (Darlene).
Besides it, several high-profile experts, writers, journalists and filmmakers will discuss and attempt to answer the question that whether the hackers can change the world or not?
Following is the list of interviewees:
Jeff Moss (also known as "The Dark Tangent") – Hacker
Zachary Levi – Actor
Kor Adana – Writer/Technical Consultant for "Mr Robot"
Ryan Kazanciyan – Security Expert
Lance James - Chief Scientist, Flashpoint
Fred Kaplan – Author of Dark Territory: The Secret History of Cyber War
Peiter C. Zatko – Network Security Expert
"Mr Robot" follows the story of Elliot Alderson, who is a security engineer in a cyber security company Allsafe. Alderson suffers from anxiety disorder and depression and is also battling paranoia and delusion.
Alderson is a cyber-vigilante who hacks into other people's accounts in order to calm himself down. A mysterious anarchist, Mr Robot, offers him to join his team of hacktivists called fsociety.
Now, Alderson has to follow the orders of Mr Robot that involves taking down one of the largest corporations in the world, E Corp (which Alderson refers as Evil Corp), which is Allsafe's one of the most prominent clients.
"Mr Robot" Season 2 will premiere on July 13, Wednesday, on USA Network.