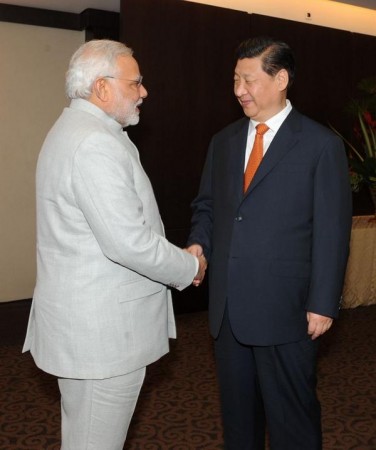 Chinese President Xi Jinping, who arrived in India on Wednesday, seems to have brought other visitors from his country, and it looks like they also plan to leave with him at the end of his three-day visit.
The Chinese troops, whose aggressive incursion into Indian territory left a sour taste at the time of Xi' visit, are reportedly starting to withdraw from Ladakh since Thursday night.
The troops, which engaged in one of the worst confrontations with Indian soldiers in decades in Ladakh, seemed to have settled in over the last few days, with helicopters airdropping food for them at regular intervals.
However, the troops started retreating into their territory from 9:45pm on Thursday, sources told The Press Trust of India, which reported that the Indian Army was also simultaneously reducing its presence in the Chumar region.
China's arrogance and aggression along the border continued to be on full display even as Prime Minister Narendra Modi talked tough on the issue with Jinping on Thursday.
As many as 600 troops of the People's Liberation Army (PLA) had dug in their heels in at least three areas in the Chumar region in Ladakh over the last few days, and they were being sustained by food supplies airdropped to them regularly by Chinese helicopters, official sources told PTI.
According to sources, Chinese helicopters were seen in the region at least thrice on Thursday, as more troops came into the Indian side with banners reading 'This is our Territory. Go Back'.
ANI Exclusive (amateur pic-4 15.09.14): LEH- Chinese incursion in Demchok area pic.twitter.com/F2BtpZc6cJ

— ANI (@ANI_news) September 18, 2014
The troops had reportedly been pouring in, in hundreds, from China to work on the construction of a road in the highly sensitive and disputed region, even as Indian authorities were grinning ear-to-ear over the new Kailash Mansarovar pilgrimage route promised by China.
The Line of Actual Control saw one of its worst face-offs in decades, and tensions climbed high on a day when Modi pushed China to work on demarcation of the LAC at the earliest.
Jinping had also acknowledged the problem but did not make a very serious commitment.
"The boundary issue is a problem which has troubled both sides for long. The China-India border areas have maintained peace and tranquility. As the area is yet to be demarcated, there may be some incidents that occur," Jinping said on Thursday after his bilateral talks in New Delhi.
Chinese nomads, called Rebos, have also pitched their tents inside Indian territory in Demchok, where they are obstructing work on an irrigation project.
According to reports, these Chinese citizens continue to remain inside Indian territory.
Chumar has been a flash point between the two sides as China claims it as its own territory and has been frequenting the area with helicopter incursions almost every year, according to PTI. In 2012, the PLA had dropped some of its soldiers in this region who then dismantled the makeshift storage tents of the Army and ITBP.
The area is not accessible from the Chinese side by road.