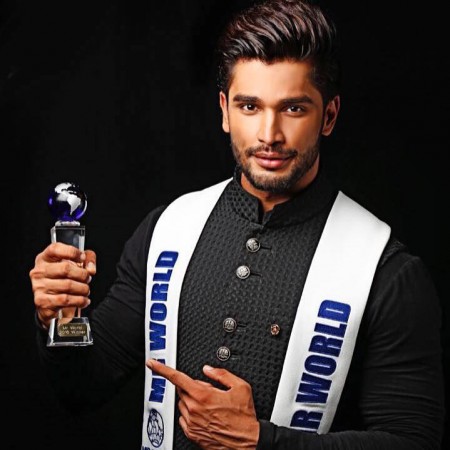 The finale of Mr. India 2015 pageant was held on Thursday night in Mumbai and a total of 15 contestants made it into the final round of the contest.
Rohit Khandewal from Hyderabad was announced the winner of Mr. India 2015 pageant and Rahul Rajasekharan from Bangalore was named the first runner up, while Prateek Gujaral from Mumbai was crowned as the second runner up, according to The Times of India.
The winner, Rohit Khandewal, will represent India at the Mister World 2015 competition, which is also organised by the Miss World Organization. Rahul Khandewal was announced the winner of sub-contest category Stay-On Mr. Active.
The winners were also announced in the sub-contest category, including Stay On Mr. Active, Wahl Mr Metrosexual, SRM University Mr Sudoku, Zoiro Mr Perfect Body , Dr. A's Mr. Healthy Hair, Gio Collection Mr Trendsetter, Times Mr Personality, Provogue Best Actor, Pro Sport Mr Iron Man, Mr Photogenic, Times Mr Congenial, Times Mr. Talented and Times Top Model.
A-list Bollywood celebrities attended the grand finale, which was followed by a retro theme party. Bollywood celebrities, including Tushar Kapoor, director Madhur Bhandakar, Ken Ghosh, Vatsal Sheth, Achint Kaur, Rocky S, Nishka Lulla, Candice Pinto, Shilpa Agnihotri, Evelyn Sharma and Pernia Qureshi among others were present at the event.
"Bajrangi Bhaijaan" actress Kareena Kapoor Khan also attended the event. Kareena, who looked gorgeous in a floral gown, congratulated the winners and clicked photographs with the winner and runners up.
Times Mr Congenial: Ulhas Dhiman
Times Mr. Talented: Ulhas Dhiman and Neeraj Sharma
Times Top Model: Sagar Gera
Times Mr Personality: Rahul Rajsekharan
Mr Photogenic: Jitesh Thakur
Pro Sport Mr Iron Man: Rahul Rajsekharan
SRM University Mr Sudoku: Suraj Chhajed
Wahl Mr Metrosexual: Suraj Chhajed
Dr. A's Mr. Healthy Hair: Sagar Gera
Zoiro Mr Perfect Body: Ulhas Dhiman
Gio Collection Mr Trendsetter: Sagar Gera
Provogue Best Actor: Rahul Rajsekharan and Rahul Khandewal
Stay-On Mr. Active: Rahul Khandewal