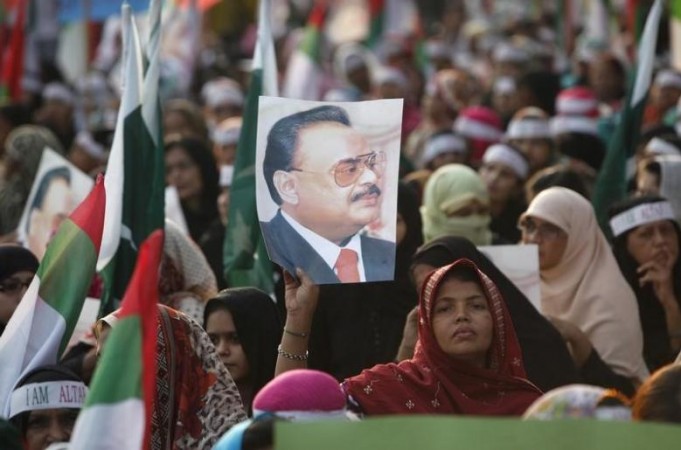 Pakistan's Muttahida Quami Movement (MQM) party separated from its founder Altaf Hussain on Tuesday after he issued an anti-Pakistan statement in a live telephonic speech where he called the nation "cancer for the entire world."
MQM's deputy convener Farooq Sattar addressed a press conference at the Karachi Press Club saying that the party, which was until now operating from London, would start functioning from Pakistan. Sattar's message clearly suggested that Hussain's orders will no longer be followed by party members.
"Pakistan is cancer and headache for the entire world. Pakistan is the epicentre of terrorism for the entire world. Who says 'long live Pakistan'? It's down with Pakistan," Hussain, who is exiled to London, told his party workers on Monday during a telephonic conversation.
He later issued an apology to Pakistan army chief General Raheel Sharif and DG Rangers for his anti-Pakistan remarks, saying, "From the depth of my heart, I beg pardon for my remarks against Pakistan, the establishment, including Gen Raheel Sharif and DG Rangers," Times of India reported.
The MQM chief, who has run the party for more than 25 years, tried to explain his remarks saying he was under severe mental stress following the extra-judicial arrests of his party workers who were on hunger strike in Karachi.
He made various inflammatory anti-Pakistan remarks during his speech, which prompted violence and resulted in the loss of a life after MQM workers stormed the office of ARI News, a TV channel, on Hussain's orders on Tuesday. Hussain was also charged with treason by Pakistan on Tuesday for his instigating speech, which prompted his party workers to attack the media office in Karachi.
Reports state that his anti-Pakistan speech led to violent protests that resulted in attack on several journalists of different media organisations. The party workers resorted to aerial firing and stone pelting, which killed one person and left many wounded.
Inspector General of Sindh, AD Khawaja, said that two cases have been filed against the MGM chief, one for raising anti-Pakistan slogans, and the other for inciting violence, Geo News reported.