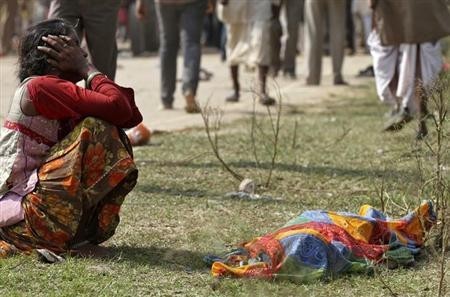 The Madhya Pradesh government on Monday suspended 21 officials, including the Datia Collector and the District Magistrate, over alleged lapses in administrative functioning during a temple stampede that killed 139.
The government had sought an approval from the Election Commission over the suspension, since the state is bound by the Model Code of Conduct which is part of assembly elections agenda. The polls would be held on 25 November.
More than five lakh devotees, including pilgrims, had gathered at Ratangarh temple on Sunday to celebrate the last day of Navratri. A stampede broke out when a group of people wanted to cut short the long queue and some railings of the Sindh River Bridge broke.
Several pilgrims, including women and children, were crushed to death while others drowned when they fell into the fast-flowing Sindh River that was swollen by heavy rains.
More than a 100 people were injured and have been admitted to district hospitals of Datia and Gwalior.
Chief Minister Shivraj Singh Chouhan had announced setting up of a judicial panel, headed by a sitting High Court judge, to investigate the incident.
"Judicial panel will submit its report in two months' time. I have instructed CS & DGP to investigate and submit their report ASAP. Whoever is found guilty based on prima facie evidence will be punished after seeking necessary approval from the Election Commission," Chouhan tweeted.
The recommendations made by the panel will be implemented within 15 days after the state government gets the report, Chouhan added.
Congress has demanded the MP chief minister to resign, to which the Bharatiya Janata Party (BJP) retorted saying that the Opposition was playing 'politics on corpses'.
Religious sites frequently witness stampedes like the one at Ratangarh temple. There was a similar incident in 2006 at the same 400-metre bridge, when 50 pilgrims were swept away to their deaths as they jumped into the Sindh River to escape the stampede.
Latest Reactions
Sudheendra Kulkarni, socio-politcal activist: "Make disaster prevention plan mandatory for all places of pilgrimage. Make this a mandate of National Disaster Management Authority #NDMA."
Sharad Pawar, Janata Dal United (JDU) Spokesperson: "When such a turn of devotees was expected to visit the temple, why wern't there appropriate measures taken at the right time?" He added that Chouhan's claims of setting a panel and punishing the guilty won't help as several pilgrims have already lost their lives.
Jyotiraditya Scindia, Congress leader and projected chief ministerial candidate for MP assembly elections: "I was told that not even five policemen were present at the Ratangarh temple site during the incident. Since after the 2006 incident the government had decided not to allow tractors and trolleys on the Sindh River Bridge, then how come on Sunday tractors were parked on both ends of the bridge?" he told ANI.
Kiran Bedi, Social activist and former IPS officer: "Post Stampede,Govts need to bring in resource shared(human+financial)security responsibility with places of huge spiritual congregations. Police numbers r not commensurate with growing social and community needs.V must bring in shared community responsibility in managing/hiring."
KC Tyagi, JDU leader: "It is a case of negligence by the administration and the government. BJP leaders don't have anything to do except make political speeches. When the Bihar midday meal tragedy happened in Bihar, the BJP demanded for Nitish Kumar's resignation. Why don't they ask Chouhan to step down now?"