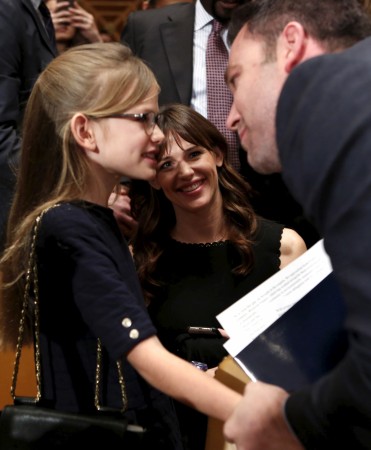 Rumours surrounding Ben Affleck and wife Jennifer Garner's marital status gained traction over the weekend when a moving truck was spotted outside their home in Pacific Palisades, California.
The couple is said to be renovating their home and two workers were spotted moving furniture onto the truck before construction work began.
However, chatter is abuzz that the couple is teetering towards a divorce, as Garner is tired of putting up with Afleck's alleged addiction to gambling.
"Their marriage has completely fallen apart," a friend of Garner's revealed to Life & Style. "They're leading separate lives and Jen's at her breaking point. She's very good at keeping it all together, but she could snap at any time."
"She can't take it anymore," another insider told the media outlet earlier this month. "She's been consulting with a high-profile divorce lawyer."
After several reports claimed that the two were leading separate lives, Garner and Affleck were photographed together in May and OK! Magazine speculates that the couple's marriage of almost 10 years could be on the rocks.
They were reportedly putting on a united front to fool the paparazzi, claimed the media outlet. "He is always glowering, and she tries to smile, putting a brave face on everything," a source told OK! magazine.
The discord in their marriage was evident during a 10 June shopping trip when Affleck spent most of his time conversing with his assistant, claims OK! "It was a bizarre situation," an eyewitness told OK!. "Ben looked really upset, like he didn't want to be there, and he was paying more attention to the leggy blonde than to his wife."
"He spoke mostly to her and barely made eye contact with Jen," the witness said.
Affleck is currently busy with the post production of "Batman V Superman: Dawn of Justice," while Garner is finishing up "Nine Lives" in Québec.