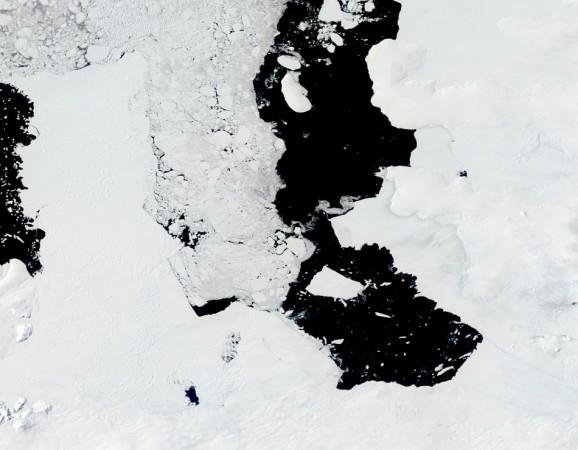 A massive iceberg or ice island of a whopping 255 square miles in size is moving into the ocean off Antarctica and could threaten shipping during the Antarctic winter, NASA has said.
The monstrous ice island, known as iceberg B31 is almost twice the size of Atlanta, as CNN notes, and almost the size of the entire Indian city of Bangalore (which is 286 square miles).
The floating ice Island could also be almost a third of a mile thick, scientists said in a report from NASA's Earth Observatory. The iceberg separated itself from Antarctica's Pine Island Glacier last November, while the crack that ultimately led this Iceberg's formation was spotted in 2011, NSAS said.
The iceberg has been drifting out of Pine Island Bay and moving into the Amundsen Sea off the western side of the continent, ever since it first formed in November.
"The iceberg is now well out of Pine Island Bay and will soon join the more general flow in the Southern Ocean, which could be east or west in this region," iceberg researcher Grant Bigg from the University of Sheffield in England said in a statement
Scientists fear that as the Antarctic winter of utter darkness is approaching, it will be difficult to track the moving island. More importantly, scientists are not expecting the iceburg to melt anytime soon and ice islands of such massive size could hang around for more than a year.
The CNN notes that the largest iceberg ever recorded was called B15. It had an area of 4,250 square miles - almost the size of the state of Connecticut or the Island of Jamaica or almost four times the size of entire Goa. It came out of the Antarctica's Ross Ice Shelf in March 200 and has since broken apart although parts of it still exist around the Antarctic today.
(Image Credit: NASA/by Jeff Schmaltz)
(ED:VS)