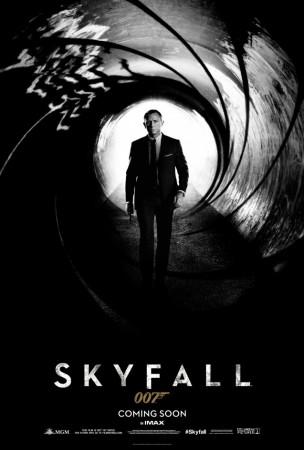 Much-awaited film "Skyfall", released on Friday, has won critics' appreciation.
Critics have applauded Oscar-Winning filmmaker Sam Mendes for giving a fresh lease of life to the familiar James Bond character. The expectation from the movie was quite high, particularly since its release fell on the 50th anniversary celebration of the creation of the British spy.
The film's makers seem to have hit the right cord in measuring up to those expectations.
Blond-haired actor Daniel Craig is playing Bond for the third time in "Skyfall" and is believed to have signed two more films in the franchise. Judi Dench has played Bond's boss for the seventh time in the film. The film also stars Javier Bardem, Ralph Fiennes and Naomie Harris in pivotal roles.
Here's what critics had to say about "Skyfall":
Peter Bradshaw of The Gurdian writes, "The 50th anniversary of the big-screen Bond was the right time to pull off something big. "Skyfall" is a hugely enjoyable action spectacular, but more grounded and cogent than the previous and disappointing outing, "Quantum of Solace". It finds the right position on the spectrum between extravagance and realism: what I think of as the imaginary line running from Bond's invisible car in "Die Another Day" and Peter Guillam's Citroën DS in "Tinker Tailor Soldier Spy".
"As with all Bond movies, you will need a sense of humour to go with the flow, and the flow does not involve a plot in the boringly normal sense of the word: more the impressionistic effect of scenes and moments and performances - and an entertaining one comes from Ben Whishaw as the gadgetmeister, Q.
"But what a rush! From the opening in Istanbul to the final siege shootout in the Scottish Highlands, this film is a supremely enjoyable and even sentimental spectacle, giving us an attractively human (though never humane) Bond. Despite the title, he is a hero who just keeps on defying gravity," he concludes.
Rajeev Masand of CNN IBN writes, "Perhaps Mendes' biggest achievement here is in creating a convincing human drama around all the action. He raises an important question about the relevance of field agents in the modern technological world, and asks you to consider the possibility that Bond might be too old for this job now. Skyfall is also the first film to take us all the way back into Bond's past and offer us an insight into why he may be the way he is."
The reviewer also points out the follies in what seems to be a solid plot. "The film isn't without its problems though. Gaping plot holes, a weak Bond girl in Severine, an over-long climax in the Scottish countryside, and an uncharacteristically teary ending all go to prove that there's nothing quite like the perfect Bond film. Still, 'Skyfall' gets so much right."
"Hard-core franchise loyalists may argue this isn't the Bond they grew up with. But it's only fair that each new filmmaker who takes a stab at 007 be allowed to interpret it his own way. Mendes, for his part, does a bang-up job," Masand concludes.
Vinayak Chakravorty of India Today writes: "Old dog, new tricks." Naomie Harris's sexed-up Moneypenny tells Daniel Craig's James Bond. Skyfall was always about making that obvious point: Bond at 50 is an old dog good enough to learn a few new tricks. And score. It was about proving that Agent 007 in his 23rd outing- "sexist, misogynist dinosaur" and "relic of the Cold War" as M famously described him in Goldeneye- was far from his expiry date.
"Skyfall is Craig's triumph because the film lets him prove James Bond can impress beyond Sean Connery swagger. But the film wouldn't have been the smasher it is without Bardem. Playing a blond baddie to the Blond Bond, Bardem uses his soft voice for maximum sinister impact, and lets his droopy eyes indulge in more evil talk than the dialogue-sheet would allow," adds Chakravorty.
Daniel Pinto for DNA says, "The biggest villain in the film is the ignominy of the decline into irrelevance. This is, after all, Bond's 23rd romp on the silver screen. Notwithstanding his slipping marksmanship, Bond, as played by Craig, is still the anti-suave killing machine of the previous two instalments. And the well-placed chinks in his armour, his yearning to gain a semblance of humanity, are still something to behold.
"Skyfall must be watched for the quality of performances that one doesn't encounter often in action thrillers. That and for how it carries on a 50-year pop-culture icon in a new direction while being mindful, if not slyly reverential, of its legacy. As the able Whishaw, playing Bond's newest Quartermaster in a youthful boffinish avatar, puts it to a visibly disappointed Bond after handing him a plain-looking gun and radio "What were you expecting, exploding pens? We don't really go in for that anymore," verdicts Pinto.
Director: Sam Mendes
Cast: Daniel Craig, Javier Bardem, Judi Dench, Naomie Harris