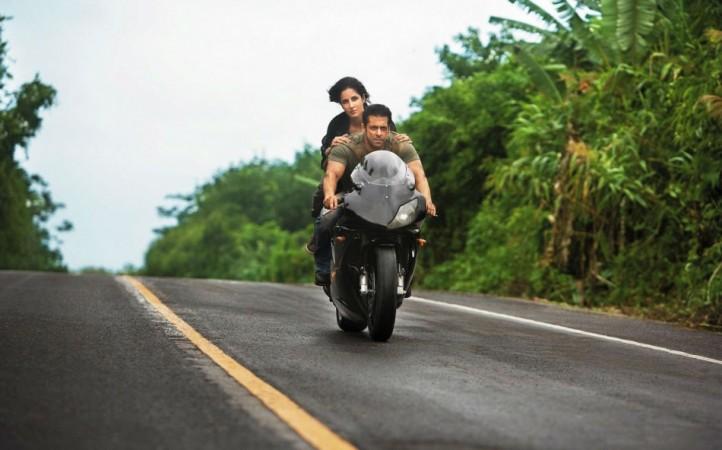 Bollywood superstar Salman Khan's third Eid-release in the row 'Ek Tha Tiger' has been garnering good reviews from film critics, while helping movie bosses rake in moolah.
Needless to say, the pre-release expectation from 'Ek Tha Tiger' was homogonous. And the film makers have met audience's expectations in delivering a sure-shot blockbuster at the box office.
In recent times, several massala entertainers of Bollywood were unsuccessful in drawing appreciation from reviewers, though the films were commercially successful. Interestingly, the critics have given thumps-up for "Ek Tha Tiger" helmed by Kabir Khan.
Here is what critics have to say about their 'Ek Tha Tiger' safari:
CNN IBN's film critic Rajeev Masand opined that the movie is "far from unwatchable". "'Ek Tha Tiger' is a very different beast from recent Salman Khan starrers, particularly his last two releases," he writes.
Commenting the performances of the actors in the film, Masand said, "Salman Khan's performance in 'Ek Tha Tiger' is moody at best. He jumps into the action scenes whole-heartedly but seems lost in the film's dramatic portions, looking subdued even, like the birthday boy who's having no fun at his own party. The romance between him at Katrina Kaif is sweet, but almost awkward - this film could have done with a little more passion between its leads. Katrina, faced with a fair bit of action herself, commits herself to the role, but her character has a cardboardish edge. "
"Despite its obvious flaws, 'Ek Tha Tiger' is far from unwatchable. It's a welcome change from the harebrained films we've seen Salman Khan in lately, and for what it's worth he's playing a character and not himself for a change. The question you have to ask is - Is that enough? " he writes.
"The Pied Piper of the Hindi film industry, who is on a dream run, delivering one Blockbuster after another, is expected to shatter previous records and set new ones at the box-office," film critic Taran Adarsh writes for Bollywood Hungama.
"On the whole, EK THA TIGER is a high-octane thriller that works big time. This one has style and substance, both, besides dazzling action, stunning international locales and stylish execution. Most importantly, it has Salman Khan, the trump card of this enterprise. There's no denying that Salman's charisma has resulted in a mind-blowing, astounding, never-seen-before start at the ticket window, but the film's content will sustain it thereafter. The film has long legs to prolong its splendid run. This is, without doubt, Salman's best. Sure shot Blockbuster," Adarsh verdicts.
Saibal Chatterjee of NDTV writes, "'Ek Tha Tiger' has enough zing, visual and otherwise, to keep you in your seats for its runtime of a little over two hours."
"A smartly scripted, crisply edited and stylishly mounted love story cloaked in the garb of an espionage thriller, it makes enough sense for the most part to blow away the air of scepticism," says the NDTV reviewer.
"Ek Tha Tiger isn't what one would rate as great cinema, but it isn't just harmless fun. The pacifist message dovetailed into its core lends the film a far greater degree of relevance than Bollywood spy thrillers generally strive for," Chatterjee adds.
Sukanya Verma, reviewing 'Ek Tha Tiger' for Rediff.com, verdicts that the movie is "snappy, snazzy & substantial action!" With Wanted, Ready and Bodyguard, Salman Khan did cheesy with such marvelous flair that even though these films are nowhere near quality line, 'stupidity sells' became the new mantra at the box office," she adds.
Verma says that action in the movie is her favourite part. "It's precisely what the romance fails to be -- snappy, snazzy, and substantial. Especially the Katrina bits, the Kat roars. Salman is expectedly familiar/splendid with/at the drill and lends the Tiger every possible wow factor (of course, he drops his shirt) but it's his leading lady's nimble accomplishments that took me by surprise. Wish there was more of it, especially towards the midpoint," the reviewer writes.
'Ek Tha Tiger' is directed by Kabir Khan and hasKatrina Kaif, Girish Karnad, Ranvir Shorey in pivotal roles, besides protagonist Salman Khan. The film was released on august 15.