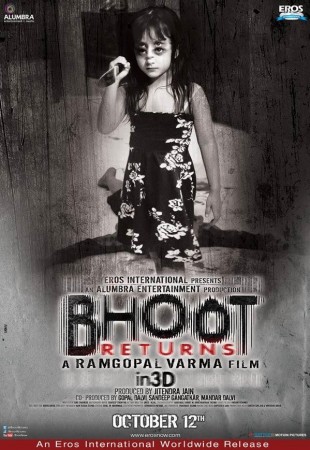 "Bhoot Returns" is likely to join Ram Gopal Varma's list of flop movies, with film critics giving it negative ratings even recommending movie-goers to avoid seeing the film.
The second instalment of the "Bhoot" Franchise, which was released on Friday, opened to a sluggish response from critics.
"Bhoot Returns", a sequel to 2003 "Bhoot" is also released in 3D. The movie marks the comeback of actress Manisha Koirala, and also stars JD Chakravarthy and Madhu Shalini in pivotal roles.
The story revolves around a family, which moves into a house already occupied by a spirit, and their ordeal in dealing with a supernatural power that likes children.
Here's what critics had to say about their horrifying experience of watching "Bhoot Returns":
Rajeev Masand of CNN IBN writes, "In an interview he gave me two weeks ago, Ramgopal Varma said he thinks horror films "should never have a story". According to him, an ominous setting alone can do the trick. That's pretty much all he's willing to offer in Bhoot Returns."
"Despite the flimsy plotting, Varma succeeds in keeping you on the edge during the first half of the film by relying on old tricks like an eardrum-splitting background score and some crazy camera angles. From above a ceiling fan and under a glass table, to behind a television set and inside a basin, Varma indulges his obsession with unlikely camera placements, and exploits 3D effectively to create a sense of foreboding," he writes.
"Bhoot Returns is no Paranormal Activity, although it does borrow at least three key moments from that popular horror franchise. It's not entirely a waste of time either, because Varma does deliver a few good scares," verdicts Masand.
Taran Adarsh of Bollywood Hungama writes, "The very first promo of BHOOT RETURNS generated tremendous curiosity, with a webcam capturing a kid playing with a shadowy creature [spirit?]. Immediately, comparisons were drawn with PARANORMAL ACTIVITY, the most celebrated film in this category. But BHOOT RETURNS doesn't take an identical route. Though RGV uses the mandatory props to scare you [the movement of the camera, the knocks and screams et al], BHOOT RETURNS fails to jolt you. Also, there's hardly any grip in the screenplay. Even the 3D experience is non-happening. We had witnessed better results in HAUNTED and RAAZ 3, in the same genre."
"There's not much scope for histrionics here! Manisha handles her part with ease. Chakravarthy is monotonous. Madhu Shalini catches your attention with a fine act. The child artist, Alayna, looks adorable, but is far from convincing in the concluding stages," concludes Adarsh. "On the whole, BHOOT RETURNS is amongst RGV's weakest films!" he says.
"Ram Gopal Varma's repertoire of films can be classified in basic two categories, good and bad. And "Bhoot Returns" made in the 3D format can be listed as the worst of the lot," says an IANS reviewer. "Sadly, for a man like Varma, who has given us good films in the past, it's unfortunate to see him being relegated to making trashy films like this. On the whole, the movie is a waste of time, energy and resources."
Kanika Sikka of DNA opines that "Bhoot Returns" lacks new ideas on the merits of being a horror movie.
"After the mildly successful Bhoot, RGV pulls out this sequel from his horror pitara. From the conventional setting getting overcome by weirdness, Bhoot Returns is a mash up of RGV's earlier horror movies," says Sikka. "A few scenes are remarkable and succeed in scaring you out of your wits, but sadly, these are very scarce."
Commenting on the acting front, Sikka writes, "Making her return to Bollywood, Manisha Koirala, playing the worried mother, gives an average performance. JD and Maddu do justice to their role. Little Alayana is brilliant. Thanks to her adorable face, the audience sympathises with her."
"Overall, "Bhoot Returns" is missing the scare factor and, god forbid, if you watch it with an audience that is easily tickled, you may not enjoy even the high points of the movie," verdicts Sikka.