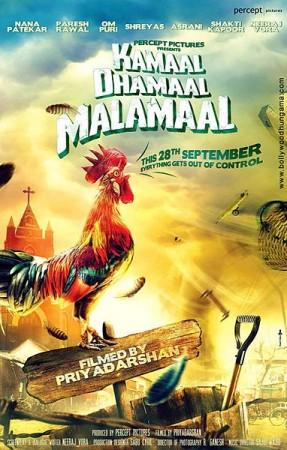 Priyadarshan's "Kamaal Dhamaal Malamaal", which is a Hindi remake of Malayalam super hit, "Marykkundoru Kunjaadu", has failed to tickle the ribs of film critics, with many terming it as boring.
Despite having a promising starcast including Paresh Rawal, Rajpal Yadav, Nana Patekar, Shreyas Talpade, Om Puri and others, the film failed to make the critics laugh.
Here's what film critics say about "Kamaal Dhamaal Malamaal":
"If Priyadarshan's earlier 'comedy of errors' left you wanting for more then you're in for some 'serious' fun in 'Kamaal Dhamaal Malamaal'. The film has borrowed its theme and basic premise from a Malayalam film 'Marykkundoru Kunjaadu' but somehow the comic elements remained with the original only," wrote Rohit Vats of CNN IBN.
"Confusions are meant to bring smiles in Priyadarshan's films but jokes fall flat in 'KDM'. Shreyas Talpade's worries about Nana Patekar's integrity are so lame and un-enthusiastically shot that the spectator starts to doubt his own eyes," he added.
"The storyteller's biggest problem in 'KDM' is his too much dependency on the actors rather than the characters. He could instruct the actors but ultimately the situations will be enacted by the people who are in front of the camera. Had he focussed more on elevating a concrete conflict line, 'Kamaal Dhamaal Malamaal' would have become a better film.," Said Vats.
Taran Adarsh of Bollywood Hungama termed the movie as a 'dud.' "Unfortunately, 'Kamaal Dhamaal Malamaal' fails as a film, fails as an entertainer, fails to tickle your funny bone," he wrote.
Commenting on the performances, Adarsh says, "With such extra-ordinary talent on board, one expects the performances to be top notch. Nana is wasted and so is Paresh Rawal. At least Nana gets ample screen time, but Paresh doesn't even get that. Om Puri is his usual self. The sole actor who stands out is Shreyas Talpade, who enacts the part of a loser with credibility. He's first-rate. Madhhurima hardly gets any scope."
Zinnia Ray Chaudhuri of DNA wrote, "It's hard to believe that the same man who brought us Hera Pheri has gone ahead and made something like 'Kamaal Dhamaal Malamaal' (KDM). A remake of a Malyalam blockbuster, KDM claims to be a "mad copic caper" but fails, in its duration of two and a half hours, to draw out even a single genuine laugh."
"With 'Kamaal Dhamaal Malamaal', what you see is what you get. The only way to get any laughs watching this film is to go with someone who will sit next to you and tell you knock-knock jokes throughout," Chaudhuri concluded.
Gaurav Malani of Times of India said that "Priyadarshan needs to upgrade."
"Film continues Priyadarshan's endless remake legacy and is derived from the Malayalam film 'Marykkundoru Kunjaadu' (2010). Thirdly it is not just deafening and long-drawn-out like most Priyadarshan comedies but is eternally boring as well," wrote Malani.
"We seem to have lost the talented Shreyas Talpade, which we saw in his initial films, to the recent boisterous comedies. The actor needs better scripts," opined the critic.
"In times when Bollywood is seeing far more fascinating humour and superior comedy films, Priyadarshan needs to upgrade with times... and fast! Especially when he doesn't have an Akshay Kumar as the selling point!," Malani concluded.
Director: Priyadarshan
Star cast: Shreyas Talpade, Nana Patekar, Om Puri, Paresh Rawal