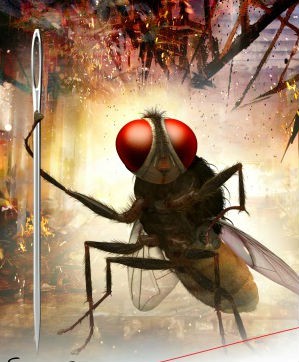 SS Rajamouli's Hindi version of Telugu "Eega" - "Makkhi" - has garnered positive reaction from the Bollywood critics as they strongly recommend not missing the movie.
Shah Rukh Khan is one of the celebrities who have recommended the film to the public. He tweeted that "Makkhi" is a must watch movie with kids.
"Makkhi" is a result of Rajamouli's conceptualization powered by his own experience with houseflies during his village life. The film has a bug as its protagonist, which is a personifications of a vengeful human soul.
"Eega" received rave reviews from the film critics down South as well, besides doing well at the box office. The Telugu version of the film was released simultaneously with Tamil as "Naan Ee."
Here's what critics said about "Makkhi":
Rajeev Masand of CNN IBN wrote: "With large opaque eyes, Jaani the housefly doesn't have the facial expressions that you would see in animated films like A Bug's Life, but Rajamouli invests so much personality in the insect by making use of his little body and spindly limbs. Makkhi has a superhero, comic book quality; you watch half-incredulously, half-amused as this persistent fly drives Sudeep insane. The fly becomes a character you root for, and incredibly, you can see characteristics of Jaani the human in the tiny bug. The animation in Makkhi is unfussy, but this is a great example of how the idea is truly the star."
"Even if the film gets a tad repetitive towards the climax, it ends up a unique cinematic experience. Make sure you don't miss it; it's the most fun you'll have had at the cinema in a long time!" he added.
Taran Adarsh of Bollywood Hungama, is praise for the film and said, "Makkhi" raises the bar of films made in India.
"A number of sequences leave you tongue-tied and I would not like to play the spoilsport by revealing the gist. All I'd say is that MAKKHI is one roller coaster ride with no dull, tedious or mind-numbing moment. The highpoint is the concept: A tiny insect taking on a mighty human, sending shivers down his spine, first ruining his peace and later, existence. The writing is smart and clever, the episodes are ingeniously integrated in the screenplay and the culmination to the tale leaves you spellbound. I'd go the extent of saying that MAKKHI has an unfaultable start, immaculate middle and impeccable end, which is a rarity as far as Indian films go," wrote Adarsh.
"Makkhi is a landmark film. You ought to watch certain films in your lifetime. MAKKHI is one of those films. For choosing a crackling idea, for executing it with panache and for taking Indian cinema to the next level, I doff my hat to you, Mr. S.S. Rajamouli," Adarsh added.
"This typical South Indian fare is sprinkled liberally with masala and served hot with dollops of passion, vendetta, reincarnation and the triumph of good over evil. But what sets the movie apart is its protagonist - a humble housefly that thinks big," wrote Shabana Ansari of DNA.
"Despite some absurd situations, Makkhi entertains in a way only South Indian films do - through heavy doses of maar-dhaad, filmi dialogues and comic relief. Kannada superstar Sudeep plays the bad guy well and the animated 'Makkhi'is decent too. Worth a watch for the new-age Indian hero who may be tiny but has lofty ideas," concluded Ansari.
"Makkhi is a technical stunner," wrote Ankur Pathak of Rediff.Com
"The film has a wafer-thin plot, which in a way is good as it actually eliminates the need to process the dialogues in the first place. This is because Makkhi is visually explanatory, and stunningly so," said Pathak.
However, the reviewer feels that the movie has long drawn climax. "The length of the film plays spoilsport. Makkhi could have been a far more engaging product had it eliminated the last 20 minutes which just stretch out the film. A suitable closure could have been achieved earlier," said Pathak.
"But overall, this super-fly is a super-stud, a bee-sized package that promises definite entertainment which even the so called larger-than-life superstars fail to achieve or achieve at a highly superficial level," concluded Pathak.
Director: SS Rajamouli
Cast: Nani, Samantha, Sudeep