National-Award winning director Madhur Bhandarkar has blatantly failed to impress the critics of Bollywood with his 'most ambitious' movie, "Heroine".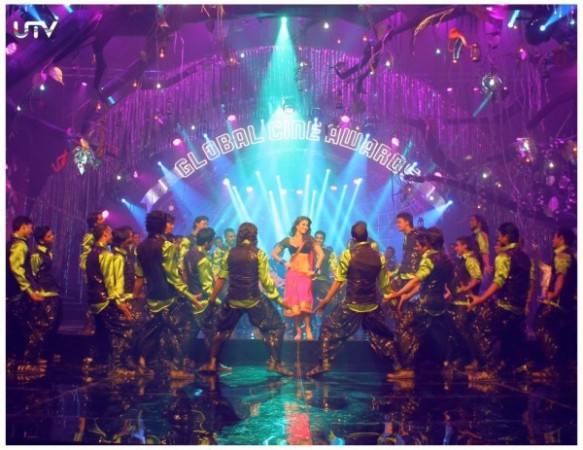 The film reviewers have virtually booed off Bhandarkar's "Heroine" with many critics claiming the film to be disappointing, if not for leading lady Kareena Kapoor.
The film's plot may not be something unheard of, given that the story deals with the rise, sufferings and fall of an actress in the world of glamour.
Read: 'Heroine' Movie Review - Kareena Leaves You High and Dry
Here's what critics had to say about their tryst with "Heroine":
CNN IBN's film critic, Rajeev Masand says that "Heroine" takes off on a promising note but "very quickly collapses into a heap of lazy stereotypes."
"Sadly, the film offers no original insight into the minds of movie stars or the inner workings of the Mumbai film industry - this is a movie that might well have been made by an avid reader of gossip rags; it hardly feels like the work of an experienced filmmaker. At least with Page 3, Corporate and Fashion, Bhandarkar cast an outsider's eye on different worlds. What's his excuse for doing such a sloppy job on an industry he belongs to?" asks Masand.
Masand has appreciated Randeep Hooda's performance as a charming young cricketer. He opined that Arjun Rampal seems ill equipped to tackle the role as Kareena's mercurial lover in the film.
"Despite an entertaining first half, thanks to all the unintentional laughs, Heroine slips into a slush of melodrama post interval. By this point, it feels interminably long and boring. Bhandarkar loses his grip on the script, and it's evident that his storytelling now desperately needs reinventing," Masand verdicts.
Film critic of Bollywood Hungama Taran Adarsh has sought to draw the line between "Fashion" and "Heroine", in a bid to answer the question "whether or not "Heroine" is an extension of "Fashion"?
"Heroine", like "Fashion", envisages the voyage of a woman [an actress here] and the different phases of glory and stardom. Also, like "Fashion",, there's a gloomy side too thanks to the desperate battle to stay put at the zenith," writes Adarsh.
Meanwhile, Adarsh sympathises with Bhandarkar's idea of "Heroine", while finding a sort of genuineness in the director's take on the Bollywood film industry.
"Madhur's detractors may accuse him of over-sensationalizing or hyping up episodes to an implausible level, but that's just an individual's perspective. To me, Madhur's take on the Hindi film industry is bona fide and if you are an industry person you would agree that actors, generally, become prisoners of fame and get scared of losing it all one day," opined Adarsh.
"On the whole, "Heroine" is yet another hard-hitting motion picture from Madhur Bhandarkar. For persistently choosing women-centric themes, for consistently winning national acclaim and most significantly, magnetizing moviegoers in large numbers to view his cinema, the efforts of the maverick film-maker deserve to be lauded. Watch "Heroine" for Madhur's imposing direction, for Kareena's superlative performance, watch it also for its fearless, inspiring and enlightening storyline divulging the scandalous realities of the movie industry. Try not to miss it!" Adarsh verdicts, extending his full support for Bhandarkar's latest offering
Vinayak Chakravorty of India Today feels "Heroine" is a result of another stereotype attempt by Bhandarkar. "That woman keeps changing with every new Bhandarkar release, but the film remains the same," says Chakravorty. "The bar dancer of Chandni Bar, the fiery politician of Satta, the honcho in Corporate, the hack in Page 3 and the supermodel of Fashion have lived through photo-copied trials, tribulation and trauma, tweaked slyly to accommodate their respective occupational hazards."
"The actor who suffers the most due to bad writing is Randeep Hooda. He gets the body language and style just right as the cricketing hero Angad Paul, only to be rudely yanked out of the script at one point," Chakravorty writes on the actors' performance. "It could all be redeemed by the star of the show. But then, Kareena surprisingly overacts. Despite being in almost every frame, she never really overcomes the highly flawed character she gets to play."
"Madhur Bhandarkar, toasted for the heroine-oriented scripts he creates, has just given us his weakest female protagonist yet. That itself lays bare the irony about the film titled Heroine", verdicts Chakravorty.
Trisha Gupta of First Post reviewing the film verdicts "'Heroine' falls flat on its Big Bad Bollywood face."
"Heroine"contains every single one of the Bhandarkarian tics we have come to watch out for over the years. Beautiful, successful women who are incurably insecure. Tick. Gay fashion designers whose real purpose is to provide gossip to said insecure women. Tick. Unprincipled bitchy journalists who care only about their next scoop. Tick. An endless parade of high-society parties in which every effusive airkissing photo-op comes with its own catty onlooker: oh, where would we be without those? Caricature is the name of Bhandarkar's only game, and he can't give it up so easily," says Gupta.
"'Heroine'shows occasional glimpses of another sort of film, the film it could have been if it abandoned its showy histrionics and sensationalising generalisations for something quieter and more specific," writes Gupta.
"Watching them all, one wishes Bhandarkar would actually act on the homilies he's just delivered about character actors and unfair hierarchies in Bollywood. But that, of course, will never be," verdicts Gupta.
Aniruddha Guha reviewing the film for DNA, says that the film fails to bring out the contrast between "make-believe one, and the one we don't see in our films: the real world," while calling it as "cosmetic film and boring take on Hindi film industry."
"The characters are all caricatured, the dialogues seem more unreal than the idea of aliens making contact with earth (Yes, even Joker scores there), and the screenplay meanders along aimlessly, it being nothing more than an assemblage of scenes - each disjointed from the other - strung together in a long, sleep-inducing and pointless narrative that stretches longer than a five-day Bangladesh vs Zimbabwe Test match on a dead Dhaka pitch," writes Guha.
Director: Madhur Bhandarkar
Cast: Kareena Kapoor, Randeep Hooda, Arjun Rampal