Expectations were sky-high. People started comparing "Ra.One" to Superstar Rajinikanth's blockbuster film, "Robot". But Shah Rukh Khan didn't let speculations shake him even a bit and kept his eyes on his work. Hard work pays. He has lived up to the expectations and "Ra.One" has come out really well. Film buffs can't ask for a better Diwali treat than this.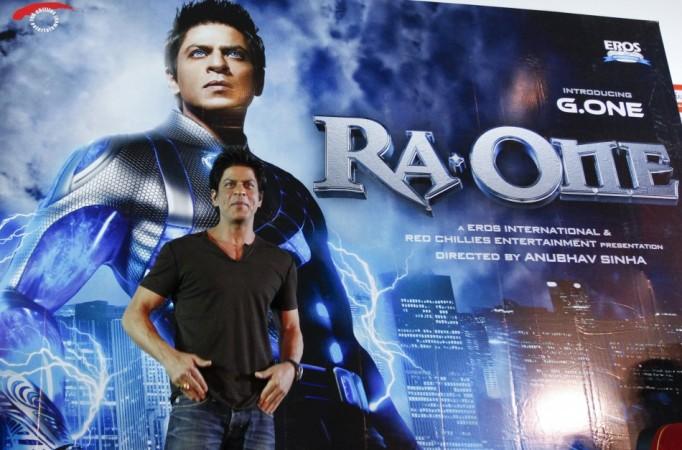 Story:
Shekhar Subramanian (Shah Rukh Khan) does all he can to fit into the world of his son Prateek, but just can't. Prateek finally gives up his efforts to make his dad cool. At this gloomy juncture, Shekhar succeeds in designing a superb game and happy times return to the family.
Surprisingly, their lives take a U-turn following a hard drive crash. They are supposed to play the game but the game starts playing with them. The rest of the film revolves around whether Shekhar and his son can get out of the mess.
Performances
Shah Rukh Khan plays the character G.One and not the title role Ra.One. He is wonderful as always. He fits into the role superbly. His energetic performance is commendable and the scenes like the train-chasing sequence and the climax are jaw-dropping. His chemistry with his son Prateek in the film is wonderful. His popularity among the children will surely increase by manifold after the release of the film.
Female lead actress Kareena Kapoor has given yet another splendid performance. She plays the role of Shah Rukh Khan's wife Sonia Subramanian in the film, and she fits the role to the T. Her performance in the song "Chamakchallo" is simply stunning.
Arjun Rampal, who plays the title character of "Ra.One," has raised the bar for villains. He has given a solid performance. He looks stylish and has done his role with ease. Child artiste Armaan Verma, who plays Shah Rukh's son Prateek Subramanian, deserves special mention. He plays a crucial role in the film and he has given a splendid performance. Sanjay Dutt and Priyanka Chopra have added spice to the film and the presence of Superstar Rajinikanth will make his fans go crazy.
Director Anubhav Sinha deserves all the accolades for making such a good film. He brought the best in Shah Rukh Khan, Kareena Kapoor, Arjun Rampal and child artiste Armaan Verma. He did everything right from direction to screenplay to action sequences. Music by Vishal-Shekhar is also cool with songs like 'Chamakchallo', 'Dildara' and 'Raftarein' going down well with the music lovers.
Verdict:
"Ra.One" is an excellent superhero film; a complete entertainer. It will entertain both the young and old alike. Don't miss this Diwali treat from King Khan!
Producer: Eros International and Red Chillies Entertainment
Director: Anubhav Sinha
Cast: Shah Rukh Khan, Kareena Kapoor, Arjun Rampal, Armaan Verma, Priyanka Chopra, Sanjay Dutt, Satish Shah, Dalip Tahil, Shahana Goswami, Suresh Menon, Tom Wu , Rajinikanth