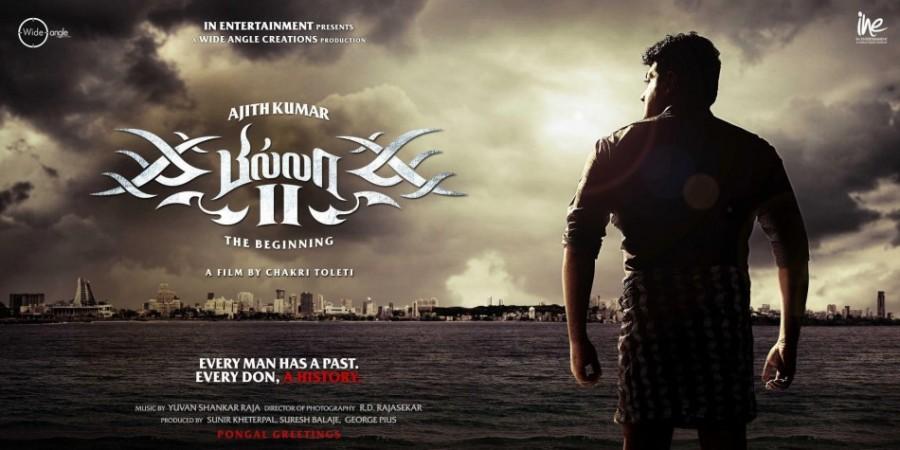 Ajith Kumar's 2007 "Billa", the remake of Rajinikanth's 1980 blockbuster, completely revamped his career and his stardom in the south Indian film industry at a time when the actor was going through a rough phase in his acting life.
Much appreciated for his elegant way of playing a gangster's role in his trademark style, "Billa" helped Ajith regain his star value in the film industry.
With the success of "Mankatha" last year, he once again became a bankable actor for producers and directors in South India, while ratcheting up expectations from his movies amongst his fans worldwide.
Ajith's recent history of success built up acute anticipation on the prequel "Billa 2". But the question is if he lived up to his fans' expectations. So far, that didn't happen.
"Billa 2" moves at a snail's pace coupled with several logical follies. During some parts of the movie, one gets completely detached from the storyline and starts wondering where the film is actually heading.
The story plot revolves around the life of gangsters who are pre-occupied with feelings of jealousy, betrayal, fear and ambitions. The story focuses on how the character David Billa, played by Ajith, fights through challenges and finally accorded the 'don' title.
David was never a good man and he never wanted it that way. As a refugee from Sri Lanka, he finds an asylum for himself somewhere near a coastal region of South Tamil Nadu. He then begins to stand up against the unfair treatment meted out to his fellow refugees, while making fatal enemies all the way.
His thirst for power and the unflinching ambition to rule the criminal world leads David to take up impossible tasks to make his mark in the underworld and succeed in treacherous situations where others failed. In no time David becomes a dreaded gangster.
Ajith has underplayed his character as David in the movie to a large extent, even in the scenes where his loved ones are killed. Other characters in the movie fail to leave a lasting trace of their presence on screen, appearing with grumpy faces hidden behind pricey shades, while standing behind their bosses.
Vidyut Jamwal, who shows up on screen as a Russian honcho in gun business, has little room to demonstrate his prowess as an established high-profile criminal and his physical strength against budding gagster Billa. He eventually gets killed by Billa in the climax fight.
Debutant Parvathy Omanakuttan just plays to the gallery and raises several questions pertaining to the requirement of her character in the movie.
Certain parts of the story are invariably sluggish making the movie appear clunky. The unexciting background scores add more to the clumsiness of the film.
With no room for funny moments, besides sequential lapses, the movie fails to covet complete attention from the audience. Director Chakri Toleti used slides in several places and to a great extent has even tried to give a raw touch to the movie, which miserably ended in a failure.
Over all, "Billa 2" could be watched just for Ajith but only if you must. The film maker could have pushed for several improvements with some logics intact.
Cast: Ajith Kumar, Bruna Abdullah as Sameera, Parvathy Omanakuttan, Vidyut Jamwal as Dimitri and Manoj K. Jayan
Director: Chakri Toleti