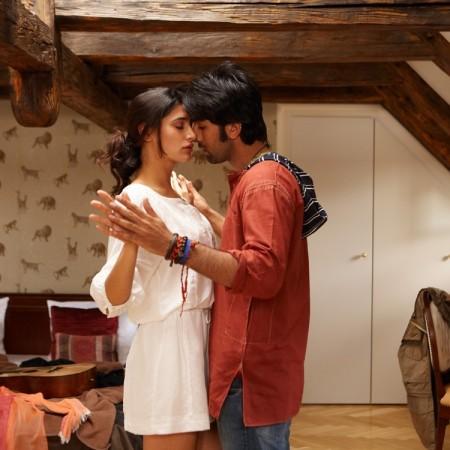 Imtiaz Ali's new film, "Rockstar", deals with the genuine romances and adversaries in the life of a directionless boy.
In the film, Ranbir Kapoor is seen in a new avatar. Rock-based films usually don't gel well with Indian audience, with the exceptino of of Abhishek Kapoor's 2008 film "Rock On". This one, however, could be a similar milestone.
Story:
Protagonist Janardhan Jakhar aka Jordan (Ranbir Kapoor) is born and brought up in a middle class family from Delhi and has a larger-than-life dream of becoming a famous rockstar like Jim Morrison. However, what he gets instead is humiliation from his friends.
He is at his wit's end when he realizes that all musical stars, all artists in fact, have one thing in common. And that is - tragedy. They all have tragic lives. They have all suffered painful heartbreaks to become what they are. Unless he does something drastic, he will never become a rockstar.
Janardhan tries to woo the diva of his college, Heer Kaul (Nargis Fakhri), a well-to-do and pretty girl who has broken quite a few hearts in the college.
The climax of the movie comes after Janardhan proposes to Heer.
Performances:
Ranbir Kapoor is a revelation. He has proven his prowess as an actor and managed to come out of the shadows of his star parents.
In the first half, Kapoor's performances remind one of his "Wake Up Sid" (2009) days. However, his slow transformation from Janardhan to the iconic rockstar, Jordan, is fabulous. He has come a long way since his debut in "Saawariya" (2007).
The female lead, Nargis Fakhri, plays the rich and intelligent diva - Heer Kaul. She is both gorgeous and her performance is splendid, for a debutant. She is the undisputed glamor quotient of the film. Veteran actor Shammi Kapoor has given as matured a performance as can be expected, even though his role is limited.
Special credit must be given to music director A.R. Rahman for the chartbuster "Saada Haq" and outstanding background scores. Cinematographer Anil Mehata also deserves special mention for the beautifully-shot scenes.
On the flip side, the director's narrative is sluggish at times. The sudden transition of diverse scenes could confuse the viewers. In hindsight, editor Aarti Bajaj should maybe have worked more on transition.
Verdict:
"Rockstar" is a rare genre of rock-based film. It is a complete entertainer with right blend of comedy, tragedy and masala. Film buffs, especially youngsters, will love "Rockstar".