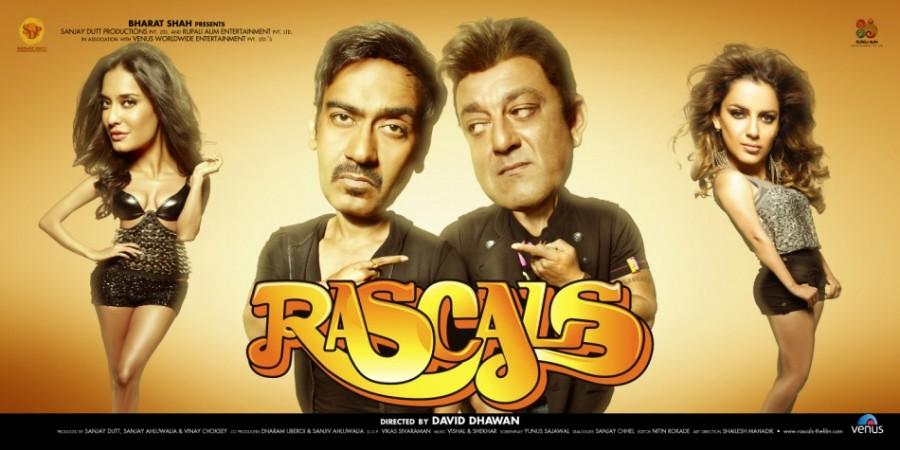 David Dhawan's newest film "Rascals" is about two bumbling con-men and their attempts to win the favors of a beautiful and rich girl.
Dhawan continues with his age-old formula, made popular with the likes of Anil Kapoor, Govinda, Akshay Kumar and Salman Khan, who took it in turns pairing up for films like "Deewana Mastana" (1997), "Mujhse Shaadi Karogi?"(2004) and "Partner" (2007). This time he attempts to pair Sanjay Dutt and Ajay Devgn together.
"Rascals" is best enjoyed if you want to drown yourself amidst improbable situations, excessively slap-stick humor and heavy doses of traditional Bollywood masala.
Basically, the film is about Chetan (Dutt) and Bhagat (Devgn), who steal a car and some money from a local gang boss, Anthony Gonsalves (Arjun Rampal). In order to get revenge, the brave Gonsalves then sends his girl to the two con-men; the idea being Kush (Kangna Ranaut) seduces Chetan and Bhagat, leading them to their doom. What happens next is what you have to pay to find out.
Much of the early publicity for the film centered on reports that Kangna would sport a bikini (she does). The spotlight, however, is stolen from her by Dolly (Lisa Hayden), who looks far more appealing, particularly in the song sequence "Shake it Saiyyan".
Rampal is more than adequate in his role and his appearance lends the film a certain something, particularly in the more comical moments, even drawing on the immense popularity of the Tamil film industry's icon Rajinikanth in a dialogue or two.
Special mention is, perhaps, due to Hiten Paintal who is probably wasted as a side-kick for Dutt and Chunkey Pandey.
Sanjay Chhel's script has its moments; however, Vishal Dadlani and Shekhar Ravjiani's music does leave something to be desired, particularly since neither seemed to quite capture the mood of the film. On the plus side, the songs "Pardaah Nasheen" (sung by Neeraj Shridhar and Sunidhi Chauhan) and "Shake It Saiyyan" (sung by Sunidhi Chauhan) have the potential to be chartbusters in days to come.
Verdict: "Rascals" is yet another David Dhawan-style comedy.