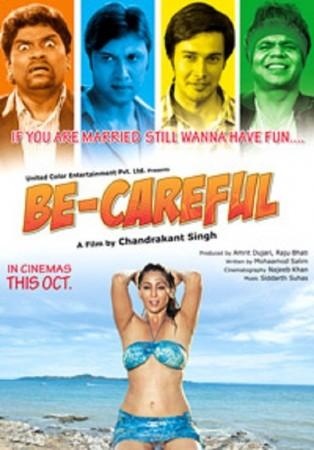 Director Chandrakant Singh's new film "Be-Careful" is about two married men who keep straying away from their wives; while their wives chase them like sniffer dogs. It is another mindless slapstick film by Chandrakant who made "Bin Bulaye Baarati" (2011). This time too, there is no improvement in his film making.
Sameer Malhotra (Rajneesh Duggall ) and Anand Kapoor (Zaid Shaikh), two childhood womanizer friends, bet as to who will sleep with the best girl. They try to flirt with two smart girls named Anjali (Tanisha Mukherjee) and Kiran (Kiran Rathod) who told them that they are virgins and that they would offer their virginity to their husbands.
So, they became their husbands but laden with many problems.
During their Bangkok tour, they meet Kabita (Shilpi Sharma) who calls herself as Poem. Both of them got attracted and started betting again as to who would bed her first. As they start befriending Kavita, their wives landed in Bangkok and the comic event of the film starts. Will Sameer and Anand be caught red handed? What will Sam & Andy do now?
Rajneesh Duggall and Zaid Shaikh fail to impress audiences and they became the victim of either director Chandrakant's mindless shoots or editor Irfan Shaikh's who puts the sequences in jumble.
Despite, exotic locations like Goa, Bangkok and Thailand, the screenplay doesn't impress much. Actresses Tanisha Mukherjee, Kiran Rathod and Shilpi Sharma have nothing much to do in the film except adding glamour quotient. The presence of Bollywood comedy veteran Johnny Lever and Shakti Kapoor turned out to be a waste.
In a nutshell, "Be Careful" is not up to the expectations. It is likely to go unnoticed with the movie goers keeping an eye on Shah Rukh Khan's much-hyped film "Ra.One".