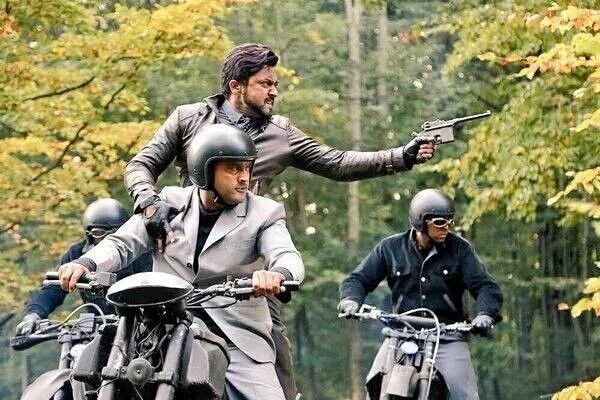 After churning out low-budget movies like "36 Vayadhinile" and "Pasanga 2," Suriya is back as a producer with the big-budget project, "24," for which he has shelled out Rs. 70 crore (including promotional expenditure).
The movie is written and directed by Vikram Kumar and is simultaneously being made in Tamil and Telugu languages. It stars two popular heroines, Samantha and Nithya Menen, in the female lead roles. Vikram Kumar's original choice to play the lead roles in "24" was the actor Vikram. Ileana D'Cruz was reportedly signed to play the female lead. The film was supposed to be bankrolled by AVM Studios in 2009 but it was shelved due to differences of opinion between the director, actor and the production house.
Later, Vikram Kumar wanted to re-launch the film with Mahesh Babu, who did not show much interest in the project. The director then revived the script, wrote a fresh screenplay and approached Suriya, who was impressed by the vision. The preparations for the project began soon and the shooting commenced in April 2015.
"24" is a science-fiction based on the idea of time travel. Suriya will be seen in multiple roles, including that of the antagonist, Athreya. Jnanapith laureate Girish Karnad, Ajay, Saranya Ponvannan, Sathyan and others are also a part of the cast. AR Rahman is the music director while Tirru is the cinematographer and Prawin Pudi is the editor of the movie.
The makers are said to have worked quite a lot on the technical aspects. They have also taken special interest towards Suriya's appearances in the film, with the result that the actor looks startlingly young in "24."
The trailer and teaser have already shown that "24" has rich visuals backed by Suriya's strong performance. AR Rahman's music and background score have created positive vibes around the movie.
The movie will be released in over 1,500 screens in the two languages across the globe. It will see a big release in the U.S., France, Germany, Denmark, Australia, Malaysia and the UAE. The estimated screen count in the overseas centres comes close to 660.
"24" will be released on May 6 and a premiere show will be held a day before in the U.S., which will be attended by Suriya's family.