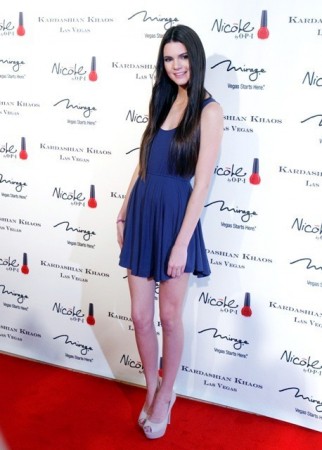 Kendall Jenner may have a new admirer in Joey Essex, the former "The Only Way Is Essex" star, who reportedly has a special appreciation for the "Keeping Up with the Kardashian" star.
"I think Kendall Jenner's a proper sort. I'm actually good friends with Kendall's best mate Natalie 'Bad' Wood. Kendall always has these tattoos done and it's her who does them," Essex told Mirror about Kendall.
Essex was previously in a relationship with 23-year-old Sam Faiers.
Although the couple broke up after cheating rumors marred their relationship, they are still good pals. Faiers was recently diagnosed with Crohn's disease and reports suggest that Essex is taking care of her during these testing times.
"She'll always have a special place in my heart - I just care for her and want to be there for her as she's going through a bad time," he told the website.
Elaborating on their post break up relationship, Essex added: "Obviously when I came out of the jungle and saw that, it wasn't nice for me to see but it doesn't make me see Sam in a different way. We didn't really want to get too much into it as it wasn't something we were too bothered about. I was more concerned about how she was feeling as she was ill. The past is the past."
Meanwhile, Essex's attention might be a good distraction for Jenner, whose relationship with "One Direction" member Harry Styles came to an end recently. The couple, who was dating since November 2013, called it quits for unknown reasons.
"Kendall is absolutely crushed that Harry ended their relationship. She's heartbroken and leaning on her sisters for support," Hollywoodlife quoted a source as saying.
"She didn't think she'd fall so hard for him the first place. She wanted to take their relationship to the next level and he basically said he couldn't give her what she wanted and he didn't want to hurt her."
Since then, Jenner has been spotted with many mystery men and Styles was in news for being caught in a public display of affection with "The Kills" star Alison Mosshart.