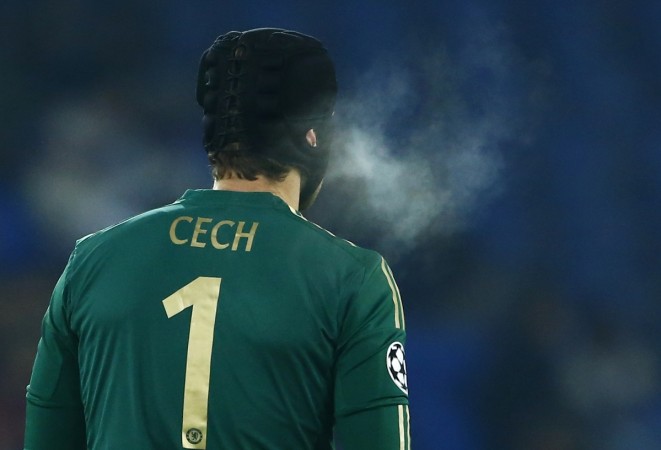 Chelsea boss Jose Mourinho hopes that goalkeeper Petr Cech will stay at the Stamford Bridge, despite losing his starting spot to Thibaut Courtois.
Courtois returned to Stamford Bridge after spending three seasons on loan at Atletico Madrid. The Belgium international is now the manager's first choice stopper and started the club's Premier League opener on Monday, where they beat Burnley 3-1.
However, Cech was the first-choice keeper of Chelsea for the past decade. He was a part of the Blues squads which won three Premier League titles, four FA Cups and a Champions League.
"I hope Petr doesn't want to go and I hope he doesn't have offers to go and, if he does have offers, he refuses to go," Mourinho pointed out.
"I'd be delighted to have two of the best keepers in the world in my squad."
When asked whether Courtois will be the first choice for the rest of the season, Mourinho said he want to take it step by step.
"I don't like the word 'for the rest of the season'. He is not my first choice for the rest of the season. He was my first choice today and I think he played a game that was good enough to be my first choice in the next game," the manager stressed.
However, the Portuguese tactician inisisted that Courtois will have to deliver consistently, if he expects to keep his spot.
"When you have on your side working like a top professional somebody like Petr, if you don't perform you are in trouble. I am not in trouble I am safe, Chelsea is not in trouble, Chelsea is safe, they are both fantastic goalkeepers."
Mourinho said he wants to repeat what he did 10 years ago, rebuilding Chelsea from a young side. The boss had allowed the departures of veterans Frank Lampard and Ashley Cole from the Stamford Bridge this summer.
"Obviously a goalkeeper is not a player you are changing match after match, you must give a bit of stability, but this is about performances," Mourinho said. "Ten years ago I had a very difficult decision to make when I had Carlo Cudicini giving fantastic performances in Chelsea's goal for many years.
"This situation is similar. We have to think about the future of the club and I made a decision to give the goal to Courtois."
Meanwhile, pundits and fans are expecting a triumphant season for the Blues, after they made top signings like Cesc Fabregas, Diego Costa and the return of Didier Drogba.