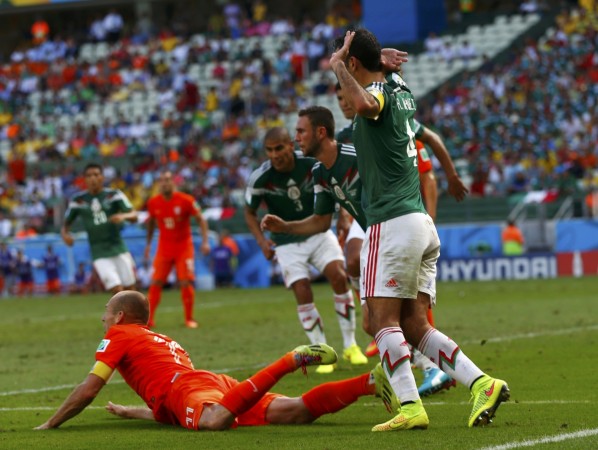 After Mexico coach Miguel Herrera labelled Dutch winger Arjen Robben a cheat for diving in the their Round of 16 encounter, it was Robben's former manager Jose Mourinho's turn to state something similar about the player.
The Blues boss has suggested that the Dutch forward deliberately tries to win free-kicks and penalties. Robben had admitted to diving in the match against the Mexicans.
"I know that because of his speed and because of his creativity he is punished a lot with fouls by opponents who cannot stop him. I also know that sometimes he tries to get an advantage and he tries to get a free kick or he tries to get a penalty," The Guardian quoted claimed the Chelsea manager.
The 93rd-minute penalty, which sent Mexico out of the World Cup in the Round of 16, has generated controversy. Incidentally, the spot kick was awarded to the Dutch after the referee deemed a foul was committed on Robben by Mexican captain Marquez.
Mourinho reckons referees should have the assistance of video technology.
"I think it's important for the players to help the referees and to help the referees is to be honest on the pitch and to help the referee is to be pure and try to win the right way. But the reality is that not every player behaves that way and referees have a difficult job. If you have technology you can have a chance to have a fourth official watching on the video or screen situation. I think technology is something the referees would welcome," Mourinho said.
This particular edition of the World Cup has been beset by controversies and suspensions. A hefty ban and heavy fine was imposed on Uruguayan forward Luis Suarez after being found guilty of biting an opposition player. Although Robben has admitted to diving in the game, it remains to be seen whether FIFA considers this to be a case of simulation. As of now, it has not looked to take any action against the Dutchman.