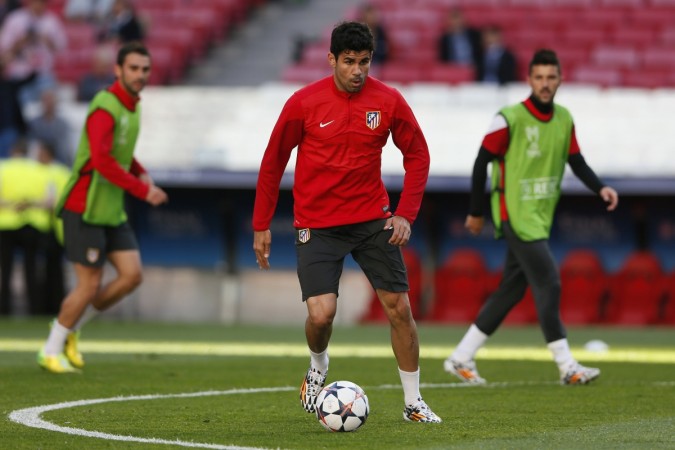 Chelsea boss Jose Mourinho is certain that the Blues' new striker Diego Costa will make the same impact Didier Drogba made when he arrived in the Premier League in 2004.
The 25-year-old, who joined Chelsea from Atletico Madrid for a reported fee of £32 million, had enjoyed an excellent season with the Rojiblancos, helping them lift the La Liga title by scoring 27 goals in 35 appearances.
And Mourinho is confident that Costa can be Chelsea's new Drogba, who incidentally has also re-signed for the club on a one-year deal, as the Blues look to launch a fresh attack on the Premier League and other competitions next season.
"It is easy to see a big, strong guy using his body, attacking spaces, holding up the ball and pressing people. But, with proper football eyes, the guy is much more than that. The movement is incredible, the intelligence is amazing, the choices he makes in terms of movement are fantastic," Mourinho was quoted by ESPN as saying.
"The guy is a real top striker. I can say that because I've known him for a long time. Even the older players with us - [Branislav] Ivanovic, [John] Terry - they say it's fantastic that he's coming because he is so strong."
Despite admitting that Drogba is better than Costa when it comes to aerial duels, Mourinho insists that the Brazil-born striker has his own strengths.
"Didier is still better than him in the air. Costa is good in air, Didier is super good," added Mourinho. "But Diego is more powerful than Didier when attacking spaces."
Also, the former Real Madrid boss feels that Costa has way more experience than Drogba did when he joined Chelsea back in 2004.
"And he arrives with more experience at the highest level. When Didier joined us, he was playing in the French league, having played just a couple of matches with Marseille in the Champions League. He was not even playing in World Cups with the Ivory Coast."
Mourinho insists that Costa, who did not impress at the 2014 World Cup as Spain crashed out at the group stage itself, is tailor-made for the Premier League and will easily find success in England.
"Diego is made. Physically, mentally, Diego is an end-product. The Premier League is difficult and he knows; he is ready. To play with the Chelsea responsibilities and pressure, he knows and he is ready, too.
"I don't think it will be difficult for him to succeed. I feel he is the right guy to help the team to win things. He just needs to work with the new players, the new team and the new coach to adapt his football to a different way of playing."