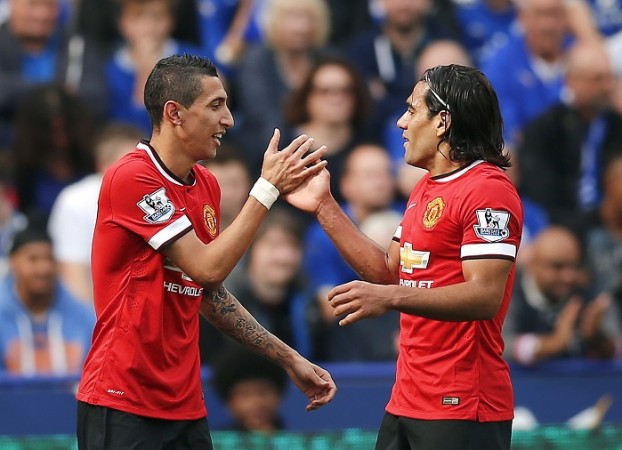 Chelsea boss Jose Mourinho claims that he turned down a chance to bring Angel Di Maria and Ramadel Falcao to Stamford Bridge due to their wage demands being too high.
Di Maria moved from Real Madrid for a British record transfer fee of £59.7 million, while Falcao completed a big-money loan move from Ligue 1 side AS Monaco last summer.
But the Portuguese boss claims that the representatives of these two players Jorge Mendes, who is also the agent of Mourinho, had contacted him first before they moved to Old Trafford
"Jorge told me Di Maria and Falcao are his players and he has to find solutions for them," Mourinho said in the book The Key to Mendes, according to The Sun.
However, the former Inter Milan boss says that he turned them down due to their excessive wage demands.
"But if Chelsea doesn't have the financial capacity to pay eight, nine or €10m a year, because of [financial] fair play, of course Mendes has to think about his players.
"We couldn't bring Falcao or Di Maria because I didn't want to, either. I can't have a player earning €10m when others earn three, four or five. That would have caused an explosion."
Meanwhile, Mourinho says that he likes playing at Anfield despite him having some unpleasant memories at Liverpool's home stadium.
The Blues, who are currently five points clear at the top of the Premier League, face Liverpool in the first leg semi-final of the Capital One Cup on Tuesday.
Although Mourinho's record against Liverpool is pretty good, with 10 wins, 4 draws and 5 defeats in 19 games in all competitions, the Portuguese has some bitter memories against the Reds especially at Anfield.
"I like to play there, it's difficult but I like it. I have some difficult memories from there; to lose a Champions League semifinal with a goal that wasn't a goal stays forever, you don't forget it," the Portuguese told Chelsea's official website, referring to the Blues' controversial defeat at Liverpool following Luis Garcia's ghost goal in the semifinal of the Champions League in 2005.
"It's a historic stadium so who doesn't like to go there and play? Everybody does; I like it, my players like it so there are only good feelings to play at Anfield."