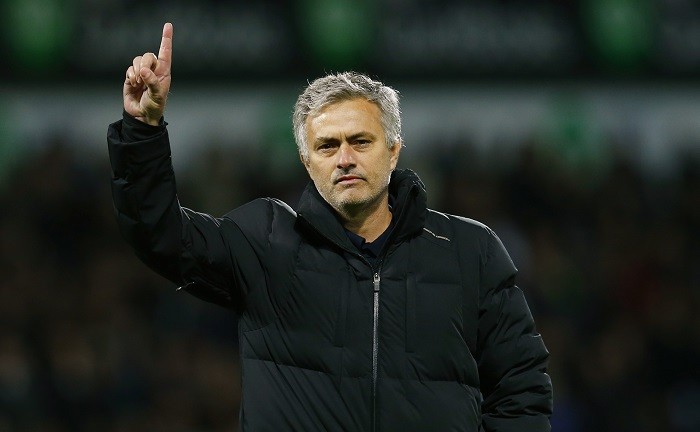 Chelsea boss Jose Mourinho feels that his side's 0-3 defeat at West Bromwich Albion was due to them losing motivation after already clinching the English Premier League title, following very little competition from the Manchester United, Manchester City, Arsenal and Liverpool.
The Blues were crowned the new English Champions following their victory against Crystal Palace on 3 May. Since then, they have picked up only a point from their last two fixtures, drawing against Liverpool and losing to West Brom.
Their performance against the Baggies was especially very disappointing as they ended up losing the match 3-0 courtesy of a brace from Saido Berahino.
And Mourinho claims that Chelsea's Premier League title rivals are to be blamed for his side's recent loss in focus, due to Manchester United, Manchester City, Arsenal and Liverpool not giving enough competition to the Blues this season.
"If you blame somebody, you have to blame Man City, Man Utd, Arsenal and Liverpool because they let us win the title so early," Mourinho told Sky Sports after his side's defeat at West Brom."When we are champions so early, it's difficult to keep the motivation high. We have lots of injuries, we have players we are protecting"
"The motivation is not so high, the intensity is not so high, and when you lose that salt and pepper of the competition, it's difficult to compete at the highest level," he added
"I cannot be critical of my players, because to be fair it was also my mentality. I cannot blame them without blaming myself."
The Portuguese also does not feel that Cesc Fabregas deserved a red card for kicking the ball at West Brom midfielder Chris Brunt's face, insisting the incident could have been resolved through words.
"With experienced referees, stable, big personality, in control of the game, I think [they use] words," added the former Real Madrid boss.
"Especially in a game where you play for nothing, and when it was just nothing special, it was a ball without any aggression, I think one of the top referees would resolve the problem with words.
"But Michael decided to give a red card, which I disagree with completely, but he's the referee."