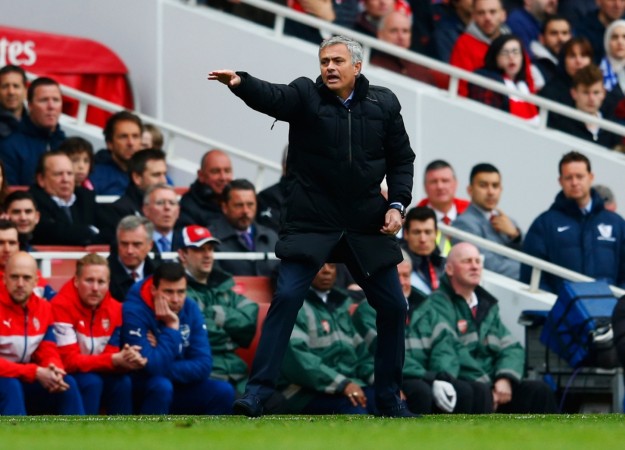 Chelsea boss Jose Mourinho feels that Arsenal can become the "Invincibles" once again, if they manage to sign four top-class players this summer.
The Gunners despite having a disappointing start to the season, have been doing very well of late in the Premier League, recording eight straight wins before their goal-less draw against Chelsea on Sunday.
Although this run of good form has seen them improve their position in the Premier League table, they are still no closer to competing for the title this season due to them being 10 points behind leaders Chelsea.
Arsenal legend Thierry Henry had recently stated that Arsenal need to sign four top-class players to improve their chances of winning the Premier League title next season.
And Mourinho agrees with the former France striker, insisting that the Gunners will be emulate the success of the 2003/04 "Invincibles" season, where Arsenal did not lose a single game in the Premier League, if they manage to sign four top-class players.
"Arsenal have a phenomenal squad," Mourinho was quoted by the Daily Mirror as saying. "Thierry Henry said they need four top-class players. Give Arsenal four top-class players and I think they will again be the Invincibles."
Mourinho, meanwhile, insists that Chelsea's chances of continuing their dominance in the Premier League is low due to the competition in England's top flight being much higher compared to the leagues in other countries.
"At this moment, it's very difficult in the Premier League for a team to be dominant," said Mourinho. "This is not Germany with Bayern (Munich). This is not Switzerland with Basel. This is not Scotland with Celtic."
Although the Blues have received very less competition from the likes of Manchester United, Manchester City and Liverpool this season, he is certain that these sides will again be investing heavily this summer to boost their chances in the Premier League in 2015/16.
"Man United have a phenomenal squad, including the most expensive player in the history of the Premier League (Angel di Maria), who is not playing," added the former Porto boss.
"They are a club where Financial Fair Play doesn't make a huge difference for them and they will invest hugely again in the summer.
"Man City have done phenomenally, winning two titles in three years, and people say they will invest hugely.
"Liverpool fighting for the title for many years. So next year it will be even more difficult for everyone than this year."