More than 34,000 Filipino villagers have abandoned their homes and are fleeing to safety after the Philippines' most active volcano, Mount Mayon, started spewing ash and lava last weekend.
Hazardous explosion and mudflow alerts
The sudden spray of lava and ash caused panic among the people after volcanologists said a "hazardous explosion" may take place in a few days, reported a few English news outlets.
The explosion will not only spout out superheated gas into the atmosphere but also spew volcanic debris.
The debris, which will flow down the Mount Mayon slope at high speeds, will burn down and vaporise everything coming in its path.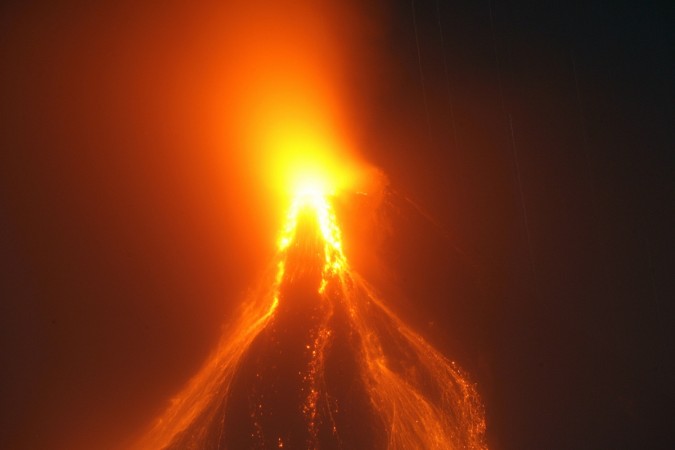 According to the Philippine Institute of Volcanology and Seismology (Phivolcs), the eruptions, which was triggered by steam, show a new lava dome is getting formed in Mayon.
An alert has been sounded and people living within 7 km (4 miles) of Mount Mayon, which is located about 340 km southeast of Manila, have been asked to evacuate the area.
"It is dangerous for families to stay in that radius and inhale ash," Claudio Yucot, head of the region's office of civil defence, was quoted as saying by AFP.
Warnings about destructive mudflows and toxic clouds have also been issued.
"Because of continuous rains in past weeks, debris deposited in the slopes of Mayon could lead to lahar flows. If rain does not stop it could be hazardous," Yucot added.
The people who have fled their homes have been lodged in school buildings that have been turned into emergency shelters.
The security officials said they are planning to set up refugee centres for farm animals owned by the villagers as they are concerned about the security of their livestock, like water buffaloes, cows, pigs and poultry.
Here's are a few videos of Mount Mayon:
This active volcano in the Philippines, which lies in the Pacific Ring of Fire, had last erupted in 2014, causing 63,000 people to flee to safety.