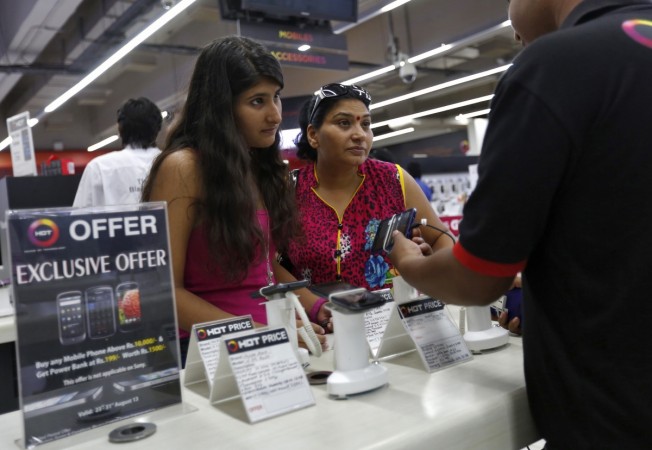 Motorola launched the second generation Moto X in India earlier this week.
The new Motorola flagship smartphone, which was already released in developed markets, have received good reviews from tech pundits and arrives in India with an aggressive price tag of sub-₹32,000. The device is expected to get traction among the price sensitive subcontinent middle-class population.
Moto X will be up against upper-mid range smartphones like the recently launched HTC One E8 and the older but yet competitive stock-Android smartphone Google Nexus 5 and the waterproof Sony Xperia Z1.
To get a better perspective of the phones, we have briefly described the key specifications of Motorola Moto X (Gen 2), Google Nexus 5, HTC One E8 and Sony Xperia Z1.
Design and display:
The new Moto X has kept the unique and ergonomic sloping edge design we have seen in its predecessor and has further enhanced its premium feel by incorporating a metal frame around corners. Motorola has also increased screen specifications from 4.7-inch HD display to 5.2-inch full HD (1920x1080p) OLED, to match the current crop of marquee smartphones.
On the other hand, the new HTC One E8 boasts critically acclaimed sleek (9.45 mm thickness) ergonomic unibody design language seen on the high-end HTC One M8 model, sans the usage of metal; instead it flaunts a synthetic polycarbonate body.
Google Nexus 5 flaunts a simplistic and yet refreshing rectangular body (inspired by 2013 flagship LG G2) with slim bezel and weighs just 130 g. On the front side, it sports a full HD (1920x1080p) IPS LCD screen, with a pixel density of 445 ppi.
Sony Xperia Z1 sports the rectangular candy bar shape with sturdy body having trademark ergonomically placed circular metal power button in the middle (on the edge). It also boasts a full HD display and also proprietary TRILUMINOS screen, 'X-Reality for Mobile' picture engine display technology.
Among the four competitors, Moto X (Gen 2) and Xperia Z1 have one advantage - they come with water-and-dust resistant certifications.
Another mentionable feature of Moto X (2014), is that the device will know when the user picks the phone out of his pocket, or picks up the phone from the desk near to him. The display then lights up to show the time or any pending notifications without having to unlock the phone.
[This feature is similar to the 'Glance' applications seen on the Windows Phone 8 OS-powered Lumia smartphones].
Processor, RAM and storage capacity:
Last year, Moto X (2013 edition) Moto X with innovative Motorola X8 computing system dual-core processor gave a rich user experience compared to beefed up rival smartphone with internal hardware by housing a quad-core/Octa-core of 64-bit architecture processor.
Despite constrained by a dual-core Snapdragon S4 Pro chipset, it still was able to pull off some great tricks that no other top-end phone (even Apple iPhone 5S, Samsung Galaxy S5) in the industry can boast off.
The new Moto X too continues the same principle of providing rich user experience like audio commands and gesture control features, thanks to four IR (infrared) sensors on the front side and four enhanced mics placed at four different sides.
Since the Moto X (Gen 2.), HTC One E8 are new to the market, they house faster Snapdragon 801 series chipset (MSM8974-AC), which can clock CPU speed close to 2.5 GHz.
Moto X also houses a custom Motorola X8 Mobile computing system architecture, in addition to the Snapdragon CPU. It accommodates two more special utility cores - one natural language CPU core (to process voice command) and a contextual CPU core (with the help of motion sensors, enables the smartphone to be self aware of the environment to display time or any other notifications on the screen).
Whereas, the Sony Xperia Z1 and Google Nexus 5 devices pack a tad old 2.3GHz 800 series Snapdragon processor.
All the devices come with 2GB RAM and 16GB/32GB (Google Nexus 5) memory.
However, for tech savvy enthusiasts who like to play high-end games and store movies in the phone, may feel let down to know that Moto X will be coming in 16GB storage (32GB only in select markets) with no microSD card slot.
Camera specifications:
Motorola phone boasts of 13-megapixel camera with, f2.25 aperture, 4K video recording and dual-LED ring flash and a 2.0-megapixel camera with Full HD video recording.
HTC One E8 too houses a 13.0-megapixel primary camera on the rear side and a 5.0-megapixel snapper on the front. Both cameras have the ability to take full HD videos.
LG Nexus 5 flaunts a pretty decent- 8.0-megapixel main camera with OIS (Optical Image Stabilization) and HDR +, Full HD video recording, photo sphere with 360-degree view and a 1.3-megapixel front-facing camera.
Sony Xperia comes loaded with a feature-rich 20.7 –megapixel camera with CMOS Exmor RS camera sensor(f1/2.3-inch aperture) with Sony G-lens(27 mm wide angle and bright f2.0 aperture) and separate BIONZ image processor engine and a 2.0-megapixel Exmor R camera with1080p video recording ability
Mobile operating system:
In this aspect, all competitors almost stand even as they all run on the same ubiquitous Android OS, but Google Nexus 5 and Moto X will have one little advantage over others as they run on the pure Android OS, and also are gauranteed to get the new Android L OS aas well.
Whereas, the HTC One E8 and Sony Xperia Z1 come with custom interface (some call it bloat-ware) Sense UI and Xperia Themes respectively.
[Note: Moto X comes with stock Android 4.4.4 KitKat and come with value-added Moto apps including Assist, Actions, Voice and Display]
Price:
Price is one of the most important aspects of comparisons as it plays a crucial role in the minds of the middle-class and youth population, which form the biggest chunk of India's demography.
Since Google Nexus 5 and Sony Xperia Z1 are one year old, their prices have been reduced in regular intervals since their release, especially on online stores like Flipkart, Infibeam, Amazon India, e-bay.
Nexus 5 can be bought for around ₹25,000 to ₹30,000 based on storage variants, where as the Sony phone can be grabbed for ₹30,000 bucks.
On the other hand, Moto X (Gen 2.) is exclusively available at Flipkart for ₹31,999, while HTC One E8 can be purchased at local brick-and-mortar stores, as well as online shops, for between ₹30,000 and ₹35,000 bucks.
Key specifications of Motorola Moto X (Gen 2.), Google Nexus 5, HTC One E8 and Sony Xperia Z1:
| | | | | |
| --- | --- | --- | --- | --- |
| Models | Motorola Moto X (Gen 2.) | Google Nexus 5 | HTC One E8 | Sony Xperia Z1 |
| Display | 5.2-inch full HD (1920x1080p) OLED screen with Gorilla Glass 3 shieldPixel density: 423 ppi (pixels per inch) | 4.95-inch full HD(1080x1920p) IPS LCD screen having Corning Gorilla Glass 3 protectionPixel density: 445 ppi (pixels per inch) | 5.0-inch full HD (1920x1080p) Super LCD 3 screenPixel density: close 441 ppi (pixels per inch) | 5.0-inch full HD TFT (1920x1080p) TRILUMINOS display boasting 'X-Reality for Mobile' picture engine. It is well protected by shatter and scratch resistant sheet.Pixel density: 441 ppi (pixels per inch) |
| OS | Android v4.4.4 KitKat | Android v4.4.4 KitKat | Android v4.4.2 KitKat with Sense v6.0 UI | Android v4.2.2 Jelly Bean (4.4.4 KitKat released) |
| Processor | 2.5GHz Qualcomm Snapdragon 801 with quad-core CPU(MSM8974-AC) | 2.3GHz Qualcomm Snapdragon 800 series quad-core processor | 2.5GHz Snapdragon 801 quad-core series CPU | Qualcomm Snapdragon 800 series quad-core processor with 2.2Ghz CPU speed |
| GPU | Adreno 330 | 450 MHz Adreno 330 | Adreno 330 GPU | Adreno 330 |
| RAM | 2GB | 2GB | 2GB | 2GB |
| Storage Capacity | 16GB (standard), 32GB offered via Motomaker customization offer | 32GB and16GB | 16GB (expandable) | 16GB, memory can be expanded up to 64GB via microSD card |
| Camera | Main camera: 13-megapixel with, f2.25 aperture, 4K video recording and dual-LED ring flashFront: 2-megapixel with full HD (1080p) video recording ability | Main: 8.0-megapixel camera with OIS (Optical Image Stabilization) and HDR +, photo sphere with 360-degree viewFront: 1.3-megapixel camera | Main: 13.0-megapixel camera with LED flash, auto-focus, HDR, full HD video recordingFront: 5.0-megapixel camera with special built-in selfie tools,full HD videos recording ability | Main: 20.7 –megapixel with CMOS Exmor RS camera sensor(f1/2.3-inch aperture) with Sony G-lens(27 mm wide angle and bright f2.0 aperture) and separate BIONZ image processor engineFront: 2.0-megapixel Exmor R camera with1080p video recording ability |
| Battery | 2300 mAh (up to 24 hours under mixed usage) | 2,300mAh;Talk time: up to 17 hoursStandby mode: 300 hours | 2,600 mAh (with HTC's extreme power saving mode feature to keep the phone running for a longer time) | 3000 mAh;Talk time: up to 14 hoursStandby mode: 550 hours |
| Network | 3G & 4G LTE (in select markets) | 3G And 4G/LTE | 3G & LTE (in select markets) | 3G |
| Add-ons | Nano-SIM, Bluetooth v4.0 (LE), Wi-Fi (802.11 ac dual-band), water-resistant coating, NFC, | 2.3GHz Wireless Dual-band Wi-Fi (2.5G/5G) 802.11 a/b/g/n/nc, Bluetooth v4.0, NFC (Android Beam ), micro-USB, built-in wireless charging | Dual-SIM slots, Front-facing Boom audio system, Motion Launch wake up feature, Dot view case compatible, Bluetooth v4.0, Wi-Fi, NFC | Water resistant and dust proof IP55/IP58 certifications, 3D and motion gaming, gesture control features, NFC, MHL, Wi-Fi, Bluetooth v4.0, micro-USB v2.0 |
| Dimensions | 140.8 x 72.4 x 9.97 mm | 137.84 x 69.7 x 8.59 mm | 146.4 x 70.7 x 9.9 mm | 144.4 x 73.9 x 8.5 mm |
| Weight | 144 g | 130 g | 145 g | 169 g |
| Price | ₹31,999/- ( available in Black, White with Bamboo cover and Black with Leather cover) | Around ₹25,000 and ₹30,000At Google Play:₹28,999(16GB) & ₹32,999(32GB)(available in black, white and red) | Around ₹30,000 and ₹35,000 (available in Polar White, Electric Crimson, Maldives Blue, and Misty Gray) | Around ₹30,000 – ₹34,000 (available in Black, White and Purple) |