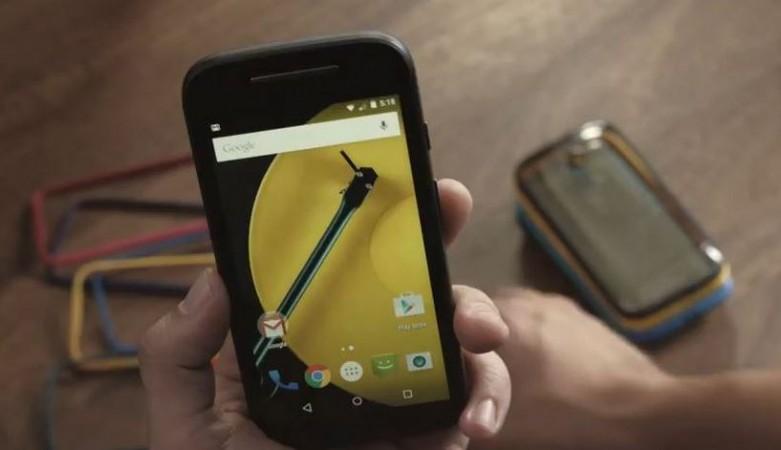 Motorola is hosting an event in New Delhi on 10 March to officially release the newly unveiled Moto E (2 Gen).
The company's official e-commerce affiliate Flipkart is set to open the Moto E (2 Gen) sale on Tuesday.
The new budget offering from Motorola is getting lot of buzz ahead of its launch in India, as Moto E (2 Gen) comes with lot of upgrades over its predecessor, such as bigger screen, much needed camera on the front, a high capacity battery and a couple of value-added features.
To provide some perspective on the new device, we have listed five key aspects to enable users to decide whether Moto E (2 Gen) is worth buying.
1. Bigger Battery capacity:
The 2014 model came with 1980 mAh, which was more than enough to run the Moto E (1stGen) for a whole day. Now, its successor packs a higher-capacity cell of 2,390 mAh power, 410 mAh extra juice to last more than a day under mixed usage.
2. Quad-core processor:
2013 model came with a dual-core Snapdragon 200 series processor, now its successor (3G variant) ships with a more powerful and energy efficient 1.2GHz Snapdragon 200 series quad-core SoC (System on Chip).
[Note: More cores in the processor, more optimized the phone will be. Device will be more efficient in handling memory utilization among applications]
4G based Moto E (2 Gen), which is expected to arrive little later in India will come packed with 64-bit class 1.2GHz Qualcomm 410 Series quad-core processor with Adreno 306 graphics engine.
3. Front-Camera:
Before the company begun the project on Moto E (2 Gen), Motorola took a survey among the first generation Moto E owners on what improvements could be implemented in the new phone. It came to light that most users missed front-camera. The company took note of it and introduced the camera on the front, enabling users to take selfies, which is a fad among people these days, especially those who are active on Instagram, Twitter and Facebook.
4. Value-added Gesture control features:
Moto E (2 Gen) comes with a couple of gesture-control based features Moto Display and 'Quick-Capture' camera launcher, which until now were seen in top-end smartphones Moto X (1 Gen & 2 Gen), Nexus 6 and Droid Turbo (Moto Turbo in India and Moto Maxx in Brazil). Even the mid-range Moto G (2 Gen) sold on Flipkart for ₹12,999 does not boast of these features.
For the uninitiated, Moto Display enables the phone to intuitively know when the user picks the device out of his pocket, or picks up the phone from the desk near to them and then only the select pixels of the display lights up to show the time or any pending notifications without having to unlock the phone.
Whereas the 'Quick-Capture' feature in the phone, lets user to launch the camera in a matter of few seconds. People have to just flip the device twice horizontally and start snapping pictures.
Honorable mention:
Moto E (2 Gen) also comes with water-resistant and anti-smudge coating on the screen.
5. Price:
Motorola is launching only the 3G variant in India on 12 March for ₹6,999.
It has to be noted despite so many upgrades incorporated in the phone, the company is selling Moto E (2 Gen) for ₹6,999, same price as its predecessor that was launched last year. Currently, the first generation model is available for ₹5,999 on Flipkart.
With a sub-₹7,000 price-tag, Moto E (2 Gen) is expected to stir another storm in the budget smartphone category in India, much like its predecessor.
Key specifications of Motorola Moto E Gen 1 and Gen 2:
Model
Motorola Moto E (1 Gen)
Motorola Moto E (2 Gen)
Display
4.3-inch qHD (960x540p) screen with Corning Gorilla Glass 3 shieldPixel density : 256 ppi (pixels per inch)
4.5-inch TFT qHD (960x540p) screen with Corning Gorilla Glass 3 shieldPixel density : 245 ppi
OS
Android v4.4.4 KitKat (Android 5.0 Lollipop update released in India)
Android 5.0 Lollipop
Processor
1.2GHz Qualcomm Snapdragon 200 series dual-core CPU (with 400MHz Adreno 302)

4G-LTE Model: 64-bit class 1.2GHz Qualcomm Snapdragon 410 series quad-core CPU with Adreno 306 GPU)
3G Model: 1.2GHz Qualcomm Snapdragon 200 series Quad-core CPU with Adreno 302 GPU

RAM
1GB
1GB
Storage capacity
4GB, expandable up to 32GB
8GB, expandable up to 32GB
Camera

Main: 5.0-megapixel camera (no flash)
Front : no camera

Main: 5.0-megapixel camera
Front: 0.3-megapixel (VGA) camera

Network
3G

UMTS 850/900/1900/2100
AWS 850/1700/1900 (2100) + QGSM 850/900/1800/19000
GSM 850/900/1800/1900

3G & 4G-LTE Both features in individual optional models

Moto E with 4G LTE - US GSM (XT1527):
GSM/GPRS/EDGE (850, 900, 1800, 1900 MHz)
UMTS/HSPA+ (850, 1700 (AWS), 1900 MHz)
4G LTE (2, 4, 5, 7, 12, 17)
Moto E - US GSM (XT1511):
GSM/GPRS/EDGE (850, 900, 1800, 1900 MHz)
UMTS/HSPA+ (850, 1700 (AWS), 1900 MHz)
Moto E - Global GSM (XT1505):
GSM/GPRS/EDGE (850, 900, 1800, 1900 MHz)
UMTS/HSPA+ (850, 900, 1900, 2100 MHz)

Battery
1980 mAh (Li-Ion); Can provide power for close to 24 hours under mixed media usage
2390 mAh
With Mixed usage, the phone can lasts up to 24 hours
Add-ons
Dual-SIM slots, Bluetooth v4.0 (with LE), Wi-Fi (802.11 b/g/n), micro-USB v2.0, microSD card slot, FM radio, water-resisting coating
4G model: single-SIM (Type: micro); 3G model: Dual-SIM slots; Bluetooth v4.0 (with LE), Wi-Fi (802.11 b/g/n), micro-USB v2.0, microSD card slot, FM radio, water-resisting coating
Dimensions
124.8x 64.8 x 12.3 mm
129.9 x 66.8 x 5.2-12.3 mm
Weight
142 g
145 g
Price
₹5,999/-
3G Model: ₹6,999/-4G Model: N/A