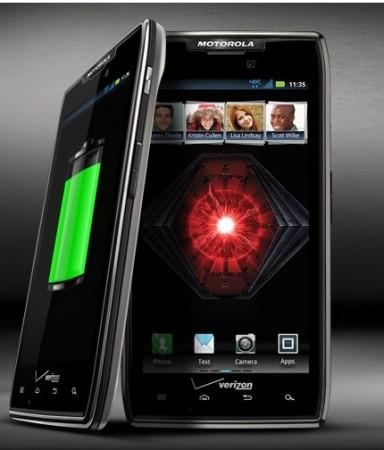 Motorola's Droid Razr launched in 2011 was heralded as the world's thinnest smartphone at 7.1 mm thickness, while its successor Razr Maxx was famed for its most powerful 3300mAh Li-Ion battery. Now the American-based company is reportedly seeking to launch HD versions for the two devices following their continued success in the smartphone market.
Technology website Hot Hardware cited a reliable source as saying that the Droid Razr HD and Razr Maxx HD versions will be unveiled in October. If the report is to be trusted then the Razr Maxx, which out sold Apple iPhone 4S on Verizon network, will be a huge boost for Motorola Mobility, whose inclusion of larger battery worked well for the company.
According to reports, a Federal and Communications Commission filing about Droid Razr HD revealed that the device would come with 2530 mAh battery. Motorola is stepping up the ante in the smartphone market by introducing more battery capacity into their devices. Though infamous for their design conventions, Motorola devices score big in terms of performance. Thus, introducing an HD resolution to their devices is bound to ring in success for the company. Apart from the inclusion of HD, the rest of the specifications may resemble predecessor versions to some extent.
Another noteworthy point is that the International version of Droid Razr is sold with unlocked bootloader which allows the ability to flash custom ROMs onto the phone, which in turn allows the device to be rooted.
Moreover, both Droid Razr and Razr Maxx have started receiving Android Ice Cream Sandwich updates for their GSM versions. US owners started receiving the update from July, but those using international versions had wait almost a month to receive it, and a broader roll out is to begin next week. The release of the update was earlier confirmed for Q2 2012 for Asia Pacific, Canada, China, EMEA, Japan, Korea & LATAM.