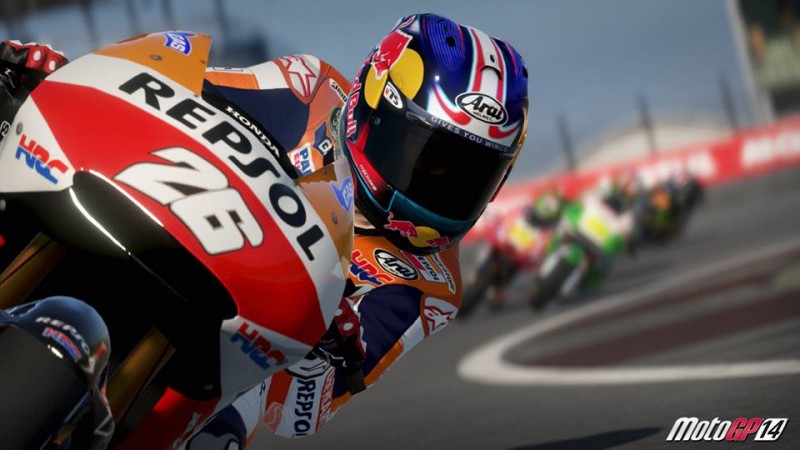 MotoGP 14 is confirmed of be released on 20 June 2014. This announcement comes from Milestone, the developers of this racing video game.
This new game will be featuring 18 tracks, riders from the official MotoGP 2014 season, riders from MotoGP 2013 class and past Champions. It also includes more than 100 riders with all the official manufacturers.
Below are some of the features in the game (MotoGP 14):
Rider Experience (Career mode) – This mode will start from the lower level with Moto3 and then Moto2. Players will be able to change teams and win the support of important sponsors. Below are some of the features in the mode:
Every player gets his own social media fans, where the moods and opinion is put across and their social feeds will appear on the menu page
Players will have a fully customizable virtual rider from name, surname, riding styles, face, nickname to helmets and suits.
3. Bike upgrades – Players will be able to test new component of the bike when the team makes it available for them. This will boost the team bike performance.
Grand Prix – Provides the option to choose races, race experience customisations.
World Championship MotoGP – This mode provides players with teams and riders from the 2014 MotoGP, Moto2 and Moto3 categories.
Time Attack – This mode lets players test their performance in terms of their speed. This mode lets players to ride alone with no rivals with the sole focus on race timings. It helps in boosting online leaderboards
Real Events - This mode allows riders who have made history in the past, like the riders from 2013 MotoGP Season.
Online Grand Prix - Though this mode is similar to the Grand Prix offline, the difference is that players will be using either their custom rider or an official rider.
Online Championship – Players are presented a series of races in order to complete the whole Championship.
MotoGP Sprint Season – Here players will have to reach the MotoGP division and win a championship but before doing so, they will have to play all the three divisions and must make enough points to win the championship.
Split Battle – This mode brings special rules like time constriction for laps. Players should aim to have the best time in each split time section
The single player mode in the game will have Time Attack, Grand Prix, Championship, Career and a new Scenario Mode. In the Career mode, players will have to start with creation of a rider entering race with a wildcard and aim for becoming the MotoGP World Champion.
The online game will allow 12 players with modes like Online Grand Prix, Online Championship and MotoGP Sprint Season. The game is said to have had two player local play.
It was also announced that pre-ordered copies will get an exclusive 'Legends of MotoGP' card game pack, but this will be only for players who buy the game from GAME in UK. But the developer has said that the players who pre-order it will get exclusive gadget that will be different for every retailer.
When released, the game will be rolling out for PC, PlayStation Vita, PlayStation 3, PlayStation 4 and Xbox 360.
(YouTube Courtesy: Softonic Deutschland)