Last month, the much awaited critically acclaimed Motorola Moto X made its debut in India.
Though it is a bit late (almost six months) to enter the subcontinent market, Moto X, despite constrained with limited internal hardware boasts some great tricks up its sleeve which can out shine even current rival flagship phones in terms of smartphone user-experience.
Moreover, it has to be noted that Moto X was launched under the steward ship of Google, which acquired Motorola Mobility in 2012 and the influence of the search engine giant's hand is visibly palpable here.
We spent more than two weeks using Moto X and the results are here:
Design:
One of the key aspects for a smartphone consumer is the device's visual appeal, which Moto X does not disappoint. It has the unique design in smartphone industry, which shows the company has did its home work to come up with a curved back, which fits easily on a normal hand and slide in to pocket with ease.
Phone's sloping edge around the corners, the bump in middle and its 4.7-inch body weighing just 130 g makes up for a perfect combination for one hand usage. The bump measures 10.4 mm in the middle and tapers to 5.6 mm at the edge.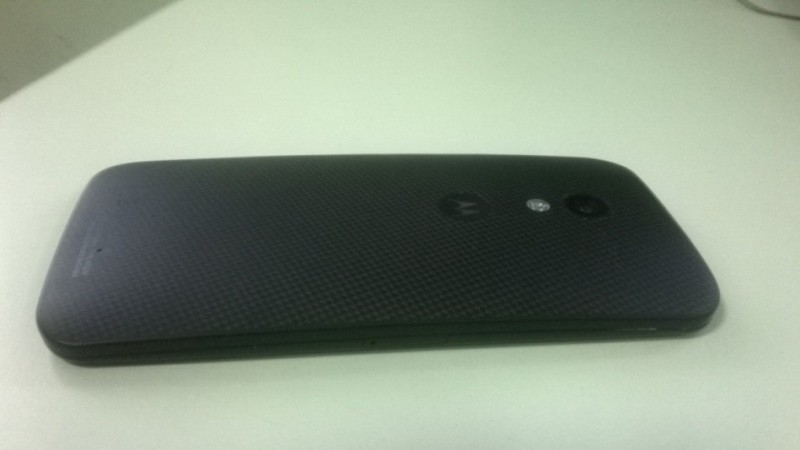 Hardware:
The plastic material of the phone's back-cover looks high quality and its worth mentioning that the phone is covered with water-repellent nano-coating inside and outside, where in user can answer/make calls during rain, but users are advised not to take the device for a dip in the swimming pool.
In India, Moto X also comes in two-wood panel based variants - one Teakwood and another Walnut wood model.
Display:
Motorola's flagship Moto X comes with HD (1280x720p) display with pixel density of 317 ppi (pixels per inch); many complain as it is bit sub-par compared to rivals which feature full HD (1920x1080) with pixel count more than 400 ppi, but to put things in perspective, many research studies have shown that normal human eye will not be able find discernible difference between the HD and full HD resolution. Possible difference can be found between display materials like LCD (Liquid Crystal Display) and LED (Light Emitting Diode) panels.
Additionally, Moto X's AMOLED panel is energy efficient and user will not have much trouble seeing the contents on the display under direct sunlight.
Processor, RAM and Storage:
Putting records straight, Moto X does not come loaded with beefed up hardware like 64-bit architecture chipset or super-fast 2.5GHz Qualcomm 800/801series quad-core CPU nor the Octa-core seen in the flagship phones like Apple iPhone 5S, HTC One M8, and Samsung Galaxy S5.
Many believe that number of cores and the speed of the CPU in the smartphone is proportional to rich user experience, well Moto X's dispel this notion, despite constrained by a pretty old dual-core Snapdragon S4 Pro chipset, it still has ability to pull-off some great tricks, thanks to custom Motorola X8 Mobile computing system architecture, where-in it accommodates two more special utility cores - one natural language processor core and a contextual processor core. The performance results of Moto X are well-founded under various benchmarking applications.
Natural language processor powers the 'Touchless Control' feature of Moto X, the phone's three mics (front, back and on the top near audio jack) are always awake waiting for user to say the trigger phase 'OK, Google Now' to perform functions like setting an alarm, put reminder on the calendar, ask direction on Google map, play music and many other operations without using the finger, he/she can just speak to the phone.
During the test, we tried 'Find my phone' voice command, the phone took a few seconds to respond with loud 'sonar' (sound effect seen in submarines) beep. We also tried with other command - 'Is it gonna rain today?', the phone quickly responded with temperature details and rain forecasts for the day. Users can try out voice commands to set the alarm, set a reminder on the calendar.
In order to set the touch less control, users need to take the phone to a silent room and give voice-samples thrice to the phone. Once registered, the Moto X will only respond to the owner's voice commands (more than 95-percent of the time). The device can recognize commands up to a distance of 10-14 feet and with less noise disturbance, faster the phone's response.
Only downside of this feature is that the device has to be always connected to internet.
[Note: Google-LG Nexus 5 users can also use voice-command features, but they can only launch 'Google Now' from the phone's home screen, whereas the Moto X users can wake-up the phone from sleep with a voice-trigger, unless they have used password protection]
Moto X's second utility core, 'Contextual' processor with the help of motion sensors, enables the smartphone to be self aware of the environment to display time or any notifications on the screen. The device will know when the user picks the phoneout of his pocket, or picks up the phone from the desk near to him and then only the select pixels of the display lights up to show the time or any pending notifications without having to unlock the phone.
[This feature is similar to 'Glance' applications seen on the Windows Phone 8 OS powered Lumia smartphones]
Moto X also ships with Adreno 320 graphic engine backed by sumptuous 2GB RAM and 16GB/32GB (in select markets only).
Mobile Operating System:
Moto X ships with Android v4.4.2 KitKat OS out-of-the box. It has to be noted that the phone roll out of Motorola when it was still under the ownership of Google.
The Motorola phone does not come with bloated OS with custom UI, it ships with almost pure Android stock OS with value added features like Advanced Support (to remotely lock and wipe phone data) and Motorola Assist, it can intuitively know that the user is driving a vehicle and to avoid distraction, the phone will automatically read out messages and also auto-reply to a call with a text message.
Camera:
In this aspect, camera department can be construed as the proverbial 'Achilles Heel' of the Moto X. Though Motorola claims that the phone's 10.0-megapixel camera with CLEAR PIXEL (RGBC) technology takes good pictures under low-light conditions, it turns out to be average images.
On the bright side, the quality of images taken under good lighting conditions are good and as a overall point-of-view, the Moto X camera specifications is still a good bargain for phone priced under ₹24,000 (in India).
Other features of the primary camera include- LED flash, Full HD 1080p video recording ability. Moto X also houses a 2.0-megapixel front camera with full HD 1080p video recording ability.
Another note-worthy feature of Motorola phone is that the device boasts of 'Quick-Capture,' wherein, user can launch the camera in a matter of few seconds just by flipping the device twice horizontally and start snapping pictures in less time.
Battery:
Moto X houses a 2200 mAh battery and as claimed by the company, the phone can run 24 hours under mixed usage. But if the phone is connected to 3G, the battery seems to drain a bit faster especially when phone automatically gets activated to driving mode.
How to de-activate driving mode:
After opening the Motorola Assist >> Tap Driving >> uncheck 'Talk to me' or edit options according to your preference.
Another issue we found on Moto X related to battery is that the phone takes bit longer time to get charged, close to two and half hours.
Price:
As of now, Motorola Moto X is exclusively available at online store Flipkart for ₹23,999 (plastic models) and have to shell out additional ₹2000 for wooden panel (teak and walnut) models.
Verdict:
Considering the price tag, Moto X is the best smartphone available in the mid-range segment.
Though Touchless control and Active display features may look like gimmicky, still these value-added features provide rich user-experience which we don't even see in expensive high-end phones.
If Moto X users migrate to some other phone, they will certainly feel the void of 'X-factors'- Active display and Touchless display features. No matter how much you stare or speak louder, you will not be able to wake-up the device. They are quite addictive.
Moto X has raised the bar in terms of smartphone user-interface, despite constrained by low-hardware specifications.
Keys Specifications of Motorola Moto X:
Model
Motorola Moto X
Display
4.7-inch AMOLED (RGB) screen with HD 720p display resolutions,Pixel density : 316 ppi
OS
Android v4.2.2 Jelly Bean OS (KitKat update released)
Processor
1.7GHz Qualcomm Snapdragon S4 Pro dual-core CPU with one natural language processor core and a contextual processor core(custom Motorola X8 Mobile computing system architecture)
GPU
Adreno 320 (four-cores) graphics engine
RAM
2GB
Storage capacity
16 GB (non-expandable)
Camera
Main: 10.0-megapixel CLEAR PIXEL (RGBC) camera, LED flash,Full HD 1080p video recording

Front: 2.0-megapixel camera with full HD 1080p video recording ability

Network
3G & 4G-LTE
Battery
2200 mAh,Power back-up close to 24 hours
Add-ons
Water-repellent body coating, Bluetooth v4.0 LE + EDR, USB v2.0, Wi-Fi :802.11 a/b/g/n/ ac (dual band capability), GPRS, EDGE
Dimensions
Height: 129.3 mmWidth: 65.3 mm

Curve: 5.6-10.4 mm

Weight
130 g
Price
All color variant made of plastic costs ₹23,999, Wood-panel based smartphones - Teak and Walnut variants costs: ₹25,999
(Ed: AJ)