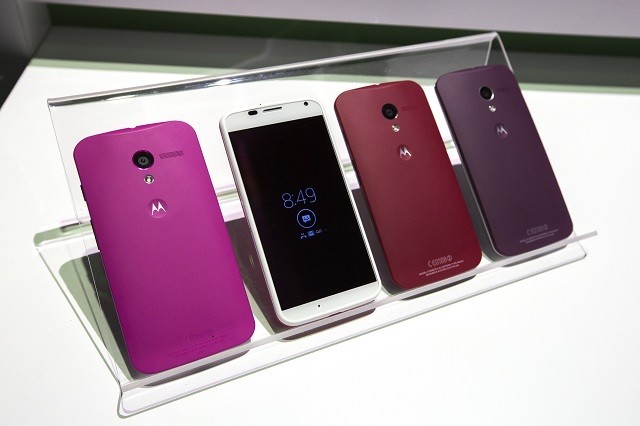 For the last few weeks, Moto G (4th gen) rumours have dominated the Internet. Now, images of its top-end flagship brethren Moto X (2016) have surfaced online indicating that Lenovo-owned Motorola has overhauled the design of the device.
Technology blog HelloMotoHK has released a couple of Moto X (2016) series photos. In the images, we see that the flagship phone's design and the material used on the back-cover is completely different from its predecessor.
Moto X (2016) comes with an all-metal body and features a circular camera module with dual-LED flash and when looked from the side, the snapper protrudes from the shell, which looks very similar to Nokia's flagship Lumia 1020, sans size of the camera module.
On the back, we also see the trademark batwing logo in the middle and a dual-grilled speaker at the bottom.[check out the Moto X (2016) images HERE]
In the front, the Motorola phone features camera on the left corner and a LED flash on the right side with a single-grille speaker in the middle. At the bottom, the company has incorporated square-shaped physical home button. Many believe that this might house the fingerprint sensor, which has become a norm in the mobile industry.
As of now, there is very little information on internal hardware of the device other than the fact the it will have Snapdragon 820 CPU and 4GB RAM, a standard SoC (System-on-Chip) configuration, which is seen in almost all new flagship phones available in the market.
Read more: Moto X (2016) spotted on Geekbench; specifications revealed
In a related development, HelloMotoHK also showed an image of Motorola's unknown Droid series phone, which seems to have quite a lot similarity with the Moto X (2016) design, but differs in a couple of aspects. The former sports an oval-shaped home button with Verizon Wireless' brand logo on top. Other physical features are the same in both the devices.
Internal hardware details of the Droid model are yet to be ascertained.
Motorola is hosting a launch event in New Delhi on May 17. But we are not sure we will be hearing anything about the Moto X and the Droid series phones. Word on the street is that the Moto G (4th gen) will be focus of the event. If previous device release pattern is taken as any indication, Motorola will hold a separate programme to unveil the flagship phones in the third quarter of 2016.
Also read: Moto G (4th gen) aka G4 tipped to come in two variants; key feature revealed
Watch this space for more updates.