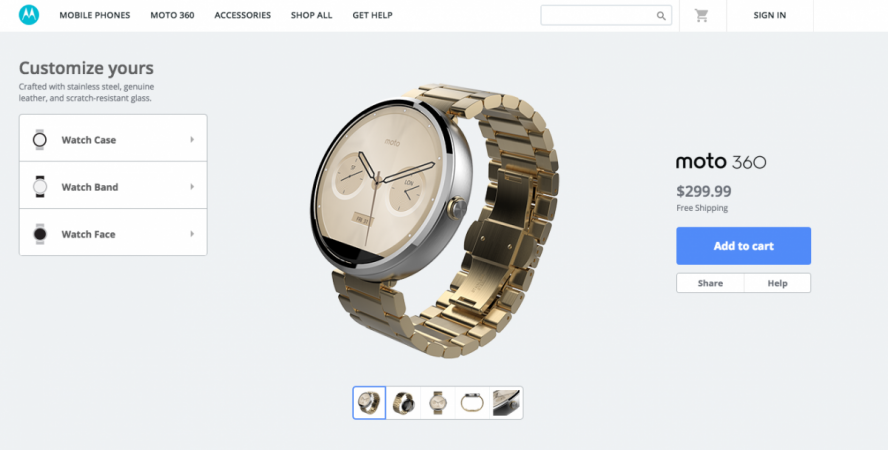 While the smartwatch business slowly starts coming out of its nascent stages, smart wearable makers are slowly adding features to the technology for an enhanced end-user experience and compatibility. And the newest name to enter the list is Motorola, which has plans for its Moto 360 smartwatch.
According to reports, and expectedly, for folks at US, Motorola's Moto Maker website can now be used to customize the Moto 360 smartwatch. The newest announcement comes following Apple's big Watch release event at San Francisco. The Moto Maker service was previously available for smartphones.
Owners will have the option to choose between different cases in dark finish, light finish, or champagne gold finish, and bands made of leather or metal, in various finishes, while also including as many as 11 watch faces to choose from. Visiting the Moto Maker site gives you access to all these designs and variations for your Moto 360.
"You have a style all your own. Now, you can customize a modern watch that satisfies your personal tastes and have it delivered to your door step," the official Motorola blog states. "Once you get your watch, it's easy to swap watch faces from our collection or through Google Play."
As far as pricing is concerned, a Moto 360 smartwatch customized with Moto Maker starts at $249.99, while moving at an upwards of $329.99, since the champagne gold finish costs an extra $30, while bands made out of metal are an extra $50. All in all, it's a good deal for users to find the wanted combination for their smartwatch.
As of now, Moto 360 is the best-selling Android Wear-based smartwatches in the market. The wearable was introduced as the world's first circular display smartwatch last year. Stay tuned for more updates!