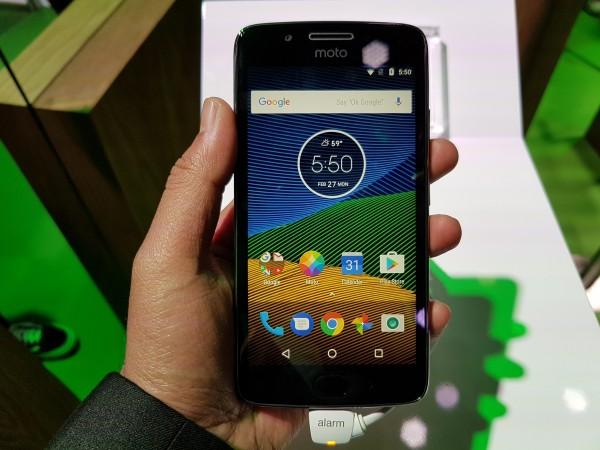 Lenovo had setup an interesting booth at the MWC 2017 in Barcelona, Spain, where we had the chance to spend some quality time with a wide range of devices. Part of that expedition were Motorola's latest releases – Moto G5 and Moto G5 Plus – which was a busy corner to begin with.
After working our way to one of the demo units, we could really dive into the make and how of the Moto G5. Based on our preliminary view of the handset, here's what we think of it.
Design
Motorola has really tried to match up to its rivals that have made it big in the budget smartphone space. The Moto G5 finally gets a metal shell at the back to give the user a feeling of a premium device. And to an extent, Motorola has succeeded in delivering that.
The Moto G5 is not entirely made of metal, but Motorola has done a smart job here. The sides are made of plastic, while the centre cover is metal, but it would be hard to tell if you are looking at it from far. This design strategy works in user's favour as it can avoid regular wear and tear. It is worth mentioning that the back cover is removable, giving access to the battery and microSD card slot, unlike most phones these days.
On the front, the device features a 5-inch display. The rounded sides make it really comfortable to hold the phone and it is best suited for single-hand use. The handset has a physical home button integrated with a fingerprint scanner, which is a worthy addition. There's a microUSB port at the bottom of the device and a 3.5mm audio jack sits at the top for your plug-in earphones. The volume controls and the lock/power button take their standard position on the right side of the device.
On the rear, what really stands out is the camera module, which is comfortably placed inside a circular panel. This is identical to Motorola's premium devices like the Moto Z.
Display
Moto G5 has a Full HD 1080p display, spread across 5 inches, which really pops out. The colours are well balanced and equally distributed. We did not have a chance to take it out in the sunlight, but it seems to work just fine without any reflections even when flashing direct light on it.
Performance
Moto G5 is powered by a Snapdragon 430 octa-core chipset, which makes day to day operations easy. But we wouldn't rely on it for high power-consuming apps and games. Although during our brief time with the handset we didn't have any lags, reviewing the device over a longer period will let us test all the cores for the real capabilities. The handset comes in 2GB, 3GB and 4GB RAM options with storage space options available in 16GB and 32GB.
Camera
We would say the camera is quite decent if not great. The 13MP rear camera with PDAF has some decent imaging quality, but it is not something we already haven't seen in other budget smartphones with similar specs. The front 5MP front camera is also decent enough for taking selfies. Try shooting in well-lit areas for better results.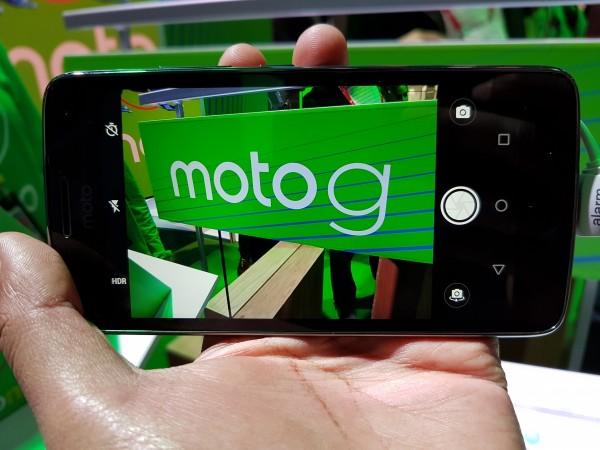 We will share sample images shot using Moto G5 in our final review.
Battery
Moto G5 packs a 2,800mAh battery with fast charging tech. Since the devices were connected to the chargers at all times, we couldn't find out how fast the charging really is. Considering the size of the battery in this model, it shouldn't take long. As for the battery life, we are expecting up to 10-12 hours with an average amount of usage. We would like to hold our final verdict on this until the full review.
Is it worth it?
Motorola's G series has been quite successful and well received by consumers. The Moto G5 sparks some magic here with its redesign. For a device starting at €199 (approx. Rs. 13,400), Moto G5 has a competitive edge. But it faces competition from the likes of Xiaomi Redmi Note 4, ZTE Blade A2 Plus and others.
Among other features, Moto G5 really stands out for its Android 7.0 Nougat, Google Assistant (coming at a later date), water-repellent coating, fingerprint scanner, 4G LTE support and AI integration. If you ask us, for these very features, the handset is worth it.