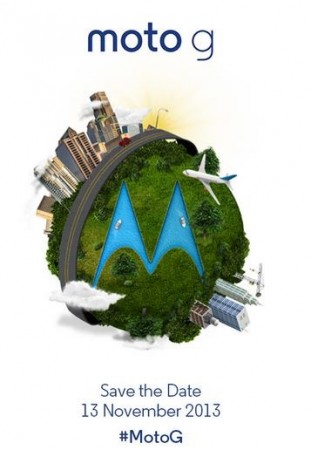 Google owned mobile company; Motorola has officially announced the launch date for its upcoming smartphone Moto G.
As a prelude to the official launch, Motorola has created a new web page for Moto G. Users have been asked to sign-in on the website to receive updates to their mail, as the company will live stream Moto G launch event online on 13 November.
The graphical Earth on the Moto G website shows animated geographies of India, America, Australia and Europe with company's 'M' logo hinting Motorola's forthcoming phone may get released in these regions.
In the Motorola's tweet message, the company has chosen to say 'hello' in a number of languages. "Time to say hola, olá, g'day, hallo, bonjour, namastē, hello to," it read. The brand has made it obvious that the American company is certain to launch Moto G in Mexico, Spain, Brazil, Portugal, Australia (including New Zealand), UK, France, India, and North America.
Over the last few weeks, Moto G specifications and press shots have leaked online. Various reports suggest that the Motorola's upcoming phone will fall in the mid-range segment. It reportedly sports 4.5-inch HD (720p) display and runs on v4.3 Jelly Bean OS powered by 1.2GHz quad-core processor with 8GB memory.
Moto G is also rumoured to house a 5.0-megapixel main camera, 1.3-megapixel front-facing camera and boasts of Bluetooth v4.0, Wi-Fi and 3G network support.