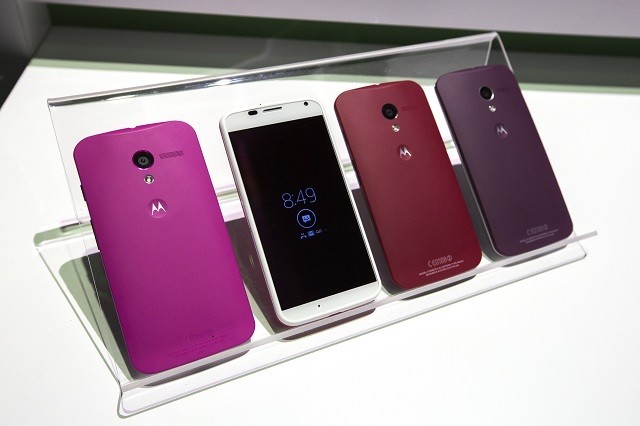 The latest version of Android 4.4.2 Kitkat OS update is now live for Moto G handsets worldwide.
Besides the main focus update on Android Kitkat OS, a bunch of new features will arrive on Moto G such as improvements in camera app, gallery, hangout and others.
Here is the full change-log regarding what to expect from the update:
Android 4.4 Kitkat OS: Kitkat includes several enhancements such as restyled status, navigation bars, new full-screen mode, colour emoji support, improvised closed captioning support, stronger security, smarter power use and more support for better app development.
Phone Dialer: Moto G will be experiencing the much hyped Kitkat phone dialer, which helps the user determine contact numbers of the users who might have called before and additionally includes a search bar.
Camera- Focus and Exposure: The "touch focus" option in the camera app is expected to get some improvements with a new circular on-screen controls, which can be dragged by the user's finger to adjust the area of focus and exposure.
Gallery - Photo Editing: New options will be added in the Gallery app including new filter effects, draw feature, advanced cropping, adjustments to colour, exposure, contrast and more.
Printing Documents and Pictures: Added support for printing photos, Google Docs, Gmail messages and other hosted services like Google Cloud Print and HP ePrinters would be included.
Hangouts - SMS/MMS Support: The new version of Google Hangouts is also included, which additionally integrates a SMS/MMS messaging feature. Hangout can also be set as default messaging apps.
Accessory Support: There would also be an added support for Square credit card reader.
Since the update is both out for both US GSM and global variants, the rolling process will take place in different stages and could take some time to reach to Moto G users, according to Android Authority.
The latest Android Kitkat OS has recently also rolled out to Moto X, which was followed by Verizon's Droid Ultra, Mini and Maxx today.