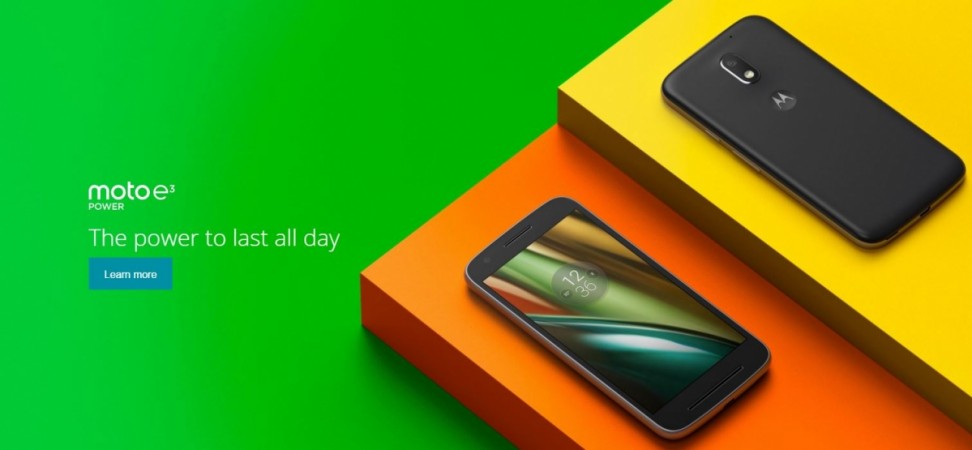 Motorola's ultra-affordable smartphone, the Moto E3 Power, received an open welcome from buyers as the first sale started with a bang. The company sold 100,000 units in just 24 hours, which is said to be the highest sale figures achieved by a single device on the first day in Flipkart's history.
However, while the demand for Motorola's budget phone is on the rise, the Moto E3 Power is not without competition. Xiaomi, which is known for its disruptive strategies in the budget smartphone segment, recently launched a budget smartphone that is just right to take up on the Moto E3 Power. Xiaomi Redmi 3S Prime was launched in August and has a lot to offer at an attractive price point.
Witnessing this smartphone battle, we have chosen Moto E3 Power and Xiaomi Redmi 3S Prime for a quick comparison of specifications and features that each phone has to offer. Xiaomi Redmi 3S Prime is priced slightly higher at Rs 8,999 as compared to Moto E3 Power's Rs 7,999 price tag. In this comparison, we will analyse whether it is worth spending the extra grand for Xiaomi's handset or settling for Moto E3 Power is a wise decision.
Design and display
Xiaomi Redmi 3S Prime features a full metallic unibody structure, which offers a premium look and feel. The handset's design is in line with other Xiaomi handsets, which isn't a bad thing at all. Motorola, on the other hand, has taken a notch up on the Moto E3 Power's design by offering a water-and-dust resistant body and oleophobic coating on the display, but doesn't offer a metallic structure.
Both phones have the same display size and resolution. A 5-inch HD display with 294ppi powers both the Redmi 3S Prime as well as the Moto E3 Power, so there isn't really much to compare here.
Camera
Xiaomi Redmi 3S Prime justifies its extra cost by offering a superior camera. The handset features a 13-megapixel rear-facing camera with a 5-physical lens, f/2.0 aperture, PDAF and HDR, and a 5MP front snapper with f/2.2 aperture and 36 smart beauty profiles.
Moto E3 Power, on the other hand, offers an 8MP primary camera with LED flash, and the front snapper has a lens with the same resolution as the Redmi 3S Prime at 5 megapixels.
We have a clear winner here and it is the Redmi 3S Prime. We reviewed the handset and found its camera to be quite incredible.
Read: Xiaomi Redmi 3S Prime review
Processor, RAM and storage
Once again, the Redmi 3S Prime has an upper hand in terms of performance. It is powered by a 1.4GHz 64-bit quad-core Snapdragon 430 processor, which is paired with 3GB RAM and has 32GB onboard storage with microSD card support up to 128GB.
Moto E3 Power is powered by a 1GHz MediaTek quad-core CPU, 2GB RAM and 16GB expandable storage.
Software and add-ons
Both smartphones run Google's latest Android 6.0.1 Marshmallow OS. While Moto smartphone has stock Android, Xiaomi's device runs a custom MIUI 7 on top for a customised experience.
Xiaomi Redmi 3S Prime additionally has a fingerprint scanner at the back panel and both phones support 4G LTE, VoLTE and dual SIM cards.
Battery
The Moto E3 Power's biggest highlight is its battery, which can provide five hours of battery life with just 15 minutes of charge. The battery size is nominal at 3,500mAh. But the Redmi 3S Prime has a bigger 4,100mAh, which takes about three hours to fully charge, but also last one full day with extensive usage. We haven't reviewed the Moto E3 Power to test its battery life in real-life conditions.
Conclusion
Both the smartphones are worthy in their own ways, but the Redmi 3S Prime has an edge over Moto E3 Power, with specifications like a fingerprint scanner, bigger battery, better performance and a camera, all of which come at an extra Rs 1,000. Moto E3 Power's strongest suits are the fast battery charging technology, water and dust-resistant design and latest software updates.