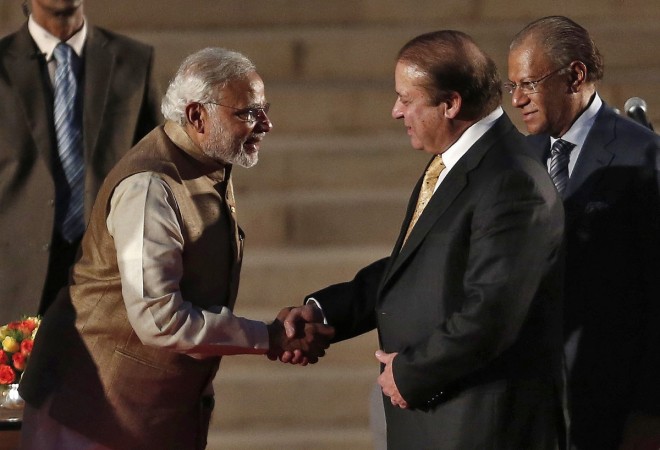 Pakistani Prime Minister Nawaz Sharif and the new Indian Prime Minister Narendra Modi started-off on the right-note, after the duo bonded emotionally over their love for their mothers.
The 15th Prime Minister of India, an avid social-media enthusiast posted on Facebook and Twitter account about his 'emotional' bond with the Pakistani head of the state. "Earlier in the evening in my conversation with Prime Minister Nawaz Sharif he shared some very emotional things," said Modi in his Facebook post.
Modi on Monday evening along with 45 ministers was sworn-in to his office. To attend his oath-taking ceremony all the leaders of the SAARC nation were extended a special invitation, which everyone had graciously accepted. Pakistani PM Sharif despite, opposition from Islamic hardliners and the army, attended the swearing-in ceremony.
Sharif was the first of the world leaders to congratulate Modi as soon as the swearing-in ceremony was over. Signalling an emotional bond after the ceremony, Modi in his post further added: "Nawaz Sharif ji told me that he stays in Islamabad but goes to meet his Mother once in a week. This time when he was eating with his Mother he saw visuals on TV of my Mother offering me sweets. The visuals touched both Nawaz Sharif ji & his Mother. He told me that after seeing the visuals his Mother got very emotional."
While Modi's, 95-year old mother, Hiraben, could not attend his swearing-in ceremony, she watched it live on TV at her home in Gandhinagar. Modi is said to be very close to his mother and is known to visit her to seek her blessings ahead of all important occasions.
After his election win, he had posted an autographed selfie with his mother, which was retweeted over a million times by his admirers and supporters in the country.
SAARC Meeting but Pakistan most Important
On Tuesday, the Prime Minister is expected to hold bilateral meetings with the leaders of SAARC nation. However, it will be the meeting with Sharif that everyone in the South East Asian continent will be looking out for. Sharif and Modi will be holding the meeting at the Hyderabad House in the afternoon.
While the burning issue of Kashmir conflict might not be taken up for discussion, the two countries are set to start-off things by agreeing on improving the bi-lateral trade ties. India and Pakistan, despite having the benefits of proximity, have barely traded with each other.
One of the main highlights of the 30-minute meeting between Modi and Sharif will be Pakistan granting India the status of the most favoured nation. Even though India has granted Pakistan the favoured nation status, the Pakistani government is yet to sort out diplomatic tussles and proceed with final approvals.
Pakistani PM Sharif is expected to grant the non-restrictive trade status to India, opening up the trading ties between the two nation.