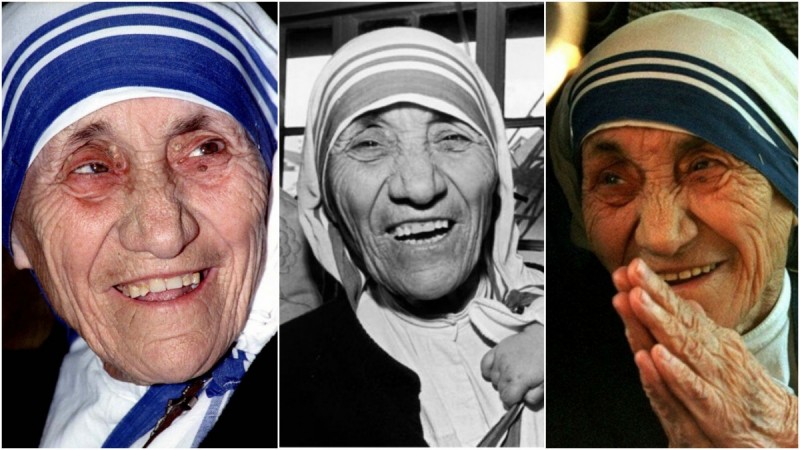 "Peace begins with a smile," said Mother Teresa.
The 106th birth anniversary of Blessed Mother Teresa, the founder of the Catholic congregation 'Missionaries of Charity' is being celebrated on Friday, Aug. 26.
It was on Oct. 19, 2003 that former Pope John Paul-II announced her as "Blessed Teresa of Calcutta." The Nobel Prize laureate will be canonised as a saint on Sept. 4, 2016 a day before the 19th death anniversary of the nun.
Mother Teresa was born in Albania in 1910 as Anjezë Gonxhe Bojaxhiu and joined as a missionary with the Sisters of Loreto at the age of 18. It was in 1929 that she arrived in India to begin charity works and founded the missionary congregation in Calcutta, West Bengal after getting permission from the Vatican in 1950. The mother for the homeless breathed her last on Sept. 5, 1997.
Here are some of the famous quotes by Mother Teresa:
If you can't feed a hundred people, then feed just one.
I know God will not give me anything I can't handle. I just wish that He didn't trust me so much.
Kind words can be short and easy to speak, but their echoes are truly endless.
Joy is prayer; joy is strength: joy is love; joy is a net of love by which you can catch souls.
Intense love does not measure, it just gives.
The biggest disease today is not leprosy or tuberculosis, but rather the feeling of being unwanted.
I want you to be concerned about your next door neighbour. Do you know your next door neighbour?
Let us more and more insist on raising funds of love, of kindness, of understanding, of peace. Money will come if we seek first the Kingdom of God - the rest will be given.
Many people mistake our work for our vocation. Our vocation is the love of Jesus.
Love is a fruit in season at all times, and within reach of every hand.
The hunger for love is much more difficult to remove than the hunger for bread.
Be faithful in small things because it is in them that your strength lies.