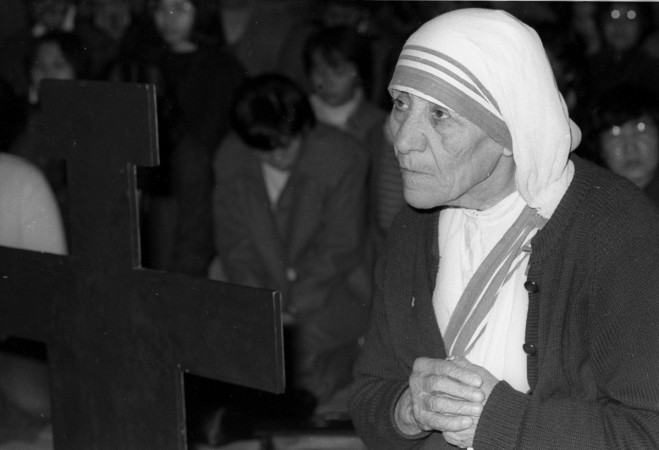 September 4 marks the date Mother Teresa will be bestowed the honour of Sainthood by the Vatican through a process started thirteen years ago when Pope John Paul II approved her beatification.
But a few isolated voices remember George Orwell's admonition in his essay on Gandhi—that saints should always be presumed guilty until proved innocent.
What could Mother possibly be guilty of? She has been called "a fanatic, a fundamentalist and a fraud" by the late journalist Christopher Hitchens who had devoted a book titled 'The Missionary Position' to highlight his criticisms of Mother Teresa.
But he is not alone. Among her critics is noted political scientist Tariq Ali and Susan Shields, a former worker with the Missionaries of Charity. Another critic was Donal Macintyre, an investigative journalist who spent a week working undercover in a Missionaries of Charity home for disabled children in Kolkata in 2005. Closer home, the two books written by doctor Aroup Chatterjee titled 'Mother Teresa: The Final Verdict' and 'Mother Teresa – The Untold Story' make scathing attacks on the cult of Teresa.
Though a great deal has been written about the miracles performed by the late noble peace prize recipient, the account of her detractors that challenges the myth around her, is perhaps conveniently forgotten. So here is a list of controversial charges levelled on Mother Teresa.
1. Her claim to fame was a bogus documentary
Mother Teresa was made an overnight symbol of western philanthropy, one who simultaneously alleviates poverty and the white man's burden, after the BBC commissioned journalist Malcolm Muggeridge to make a film on her titled 'Something Wonderful for God.' Christopher Hitchens in his book Missionary Position and in his show Hell's angels quotes Muggeridge's description of "the technically unaccountable light" the BBC team filmed in the interior of the Home of the Dying as "the first authentic photographic miracle". Hitchens contrasts this with the cameraman's view that what Muggeridge thought a miracle was the result of the latest Kodak film.
2. Her Vatican approved miracles are also bogus
The first miracle involved a Bengali woman named Monica Besra who claimed that a beam of light emerged from a picture of Mother Teresa, which she happened to have in her home, and relieved her of a cancerous tumour. According to Hitches in his book, her physician, Dr. Ranjan Mustafi, made contradictory statements saying she didn't have a cancerous tumour in the first place and that the tubercular cyst she did have was cured by a course of prescription medicine.
Writing for Outlook Magazine, doctor Aroup Chatterjee also echoed similar sentiments when he said "Bengalis showed some rare guts when she was beatified through a 'miracle' in 2003. Doctors, and even the then health minister, made statements that Monica Besra was cured by prolonged treatment, and not by an aluminium medal. Even Besra herself periodically said "her cure was not a miracle."
3. Her stand on abortion and poverty is controversial
Cristopher Hitchens holds Mother Teresa's political positions on issues such as abortion in sync with the Catholic church responsible for perpetuating poverty.
He writes: "Mother Teresa was not a friend of the poor. She was a friend of poverty. She said that suffering was a gift from God. She spent her life opposing the only known cure for poverty, which is the empowerment of women and the emancipation of them from a livestock version of compulsory reproduction."
These sentiments were repeated again by her successor, Sister Nirmala after her death when she said at her first media conference that "poverty is a gift of god''. That the poor should accept their poverty with "contentment''.
In a recent article in Quint, Aroup Chatterjee also claims that she asked thousands of Bangladeshi women who became pregnant after being raped by Pakistani soldiers during the war of 1971, to have their babies.
"Mother's obsession was that the raped women, if pregnant, must not have abortions," writes Chatterjee in his book 'Mother Teresa – The Untold Story'
4. Dubious connections and friendships
Again according to claims made by Aroup Chatterjee, Mother Teresa wrote a letter of support for a convicted paedophile, priest Donald McGuire, asking people to overlook his 'imprudence'.
It is common knowledge that she was friends with Duvaliers, the dreaded dictator of Haiti, whose acts of brutality included feeding his opponents to dogs.
Apart from that, details of her financial accounts were never publicly disclosed. Though again it is common knowledge that she received funding from Charles Keating, the lawyer, banker and financier embroiled in the savings and loan scandal.
5. Miscellaneous allegations
• Susan Shields, claimed that vast sums of money accrued in bank accounts but very little was spent on medical expertise or making the lives of the sick and dying more comfortable.
• Investigative journalist Donal Macintyre said: "For the most part, the care the children received was inept, unprofessional and, in some cases, rough and dangerous."
• Robin Fox, the editor of the Lancet, wrote in 1994 about the "haphazard" approach to care by nuns and volunteers, and the lack of medically trained personnel in the order's homes.
• In the Home for the Dying, needles were often re-used after simply washing in cold water, as were gloves. Hitchens also claims that in the aftermath of the Bhopal Gas tragedy, when mother was asked to comment on the tragedy, she reportedly asked the survivors to forgive those that are responsible.
• Mother discouraged western medicine for those seeking her but actively spent lavish sums on her own medical treatments.