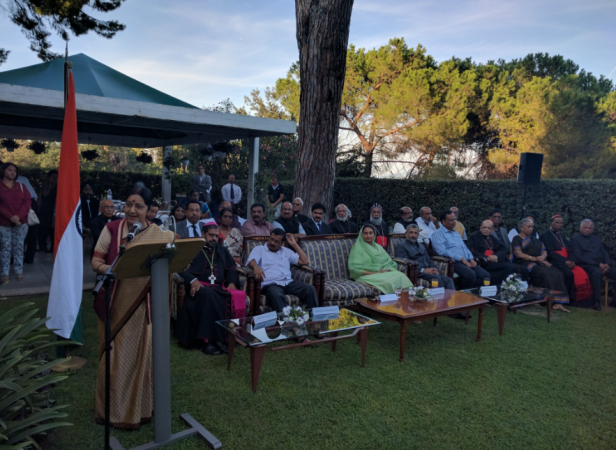 External Affairs Minister Sushma Swaraj, Bengal Chief Minister Mamata Banerjee and Delhi Chief Minister Arvind Kejriwal reached Rome on Saturday to attend the canonisation ceremony of Mother Teresa on Sunday.
Swaraj, who visited with a 12-member delegation, also met the Indian community in Rome to talk about welfare efforts by the Indian government for the Indian diaspora at an event hosted by India's ambassador to Italy, Anil Wadhwa.
Swaraj mentioned welfare efforts for the Indian diaspora, such as assisting Indians in distress and the evacuations the government conducted, External Affairs Ministry Spokesperson Vikas Swarup tweeted.
"I have come here with a delegation from different parts of India, with those of different faiths to pay respects to life of Mother Teresa," Swaraj said at the reception. "For the Indian principle is based on the saying: ekam sat, vipra bahuda vadanthi -- the truth is one, the wise call it as many," she said.
EAM thanks Indian diaspora for coming, not just from Rome but from Naples, Florence, Milan - speaks of the renewed engagement with diaspora [sic]," Swarup said.
The delegation led by Swaraj includes Minister for Food Processing Industries Harsimrat Kaur Badal, Lok Sabha MPs Prof K V Thomas, Jose K Mani, Anto Anthony and Conrad K Sangma, Deputy Chief Minister of Goa Francis D'Souza, Judge of Supreme Court Justice Kurian Joseph, eminent lawyer Harish Salve, Secretary General of Catholic Bishops' Conference of India Theodore Mascarenhas and K J Alphons and Secretary (West) in the Ministry of External Affairs Sujata Mehta is also part of the delegation.
Banerjee and Kejriwal are the only two chief ministers from India at the event.
Mother Teresa, known as the saint of the gutters, will be elevated to sainthood by Pope Francis on Sunday after two miracles that happened after her death were believed to be performed by her.