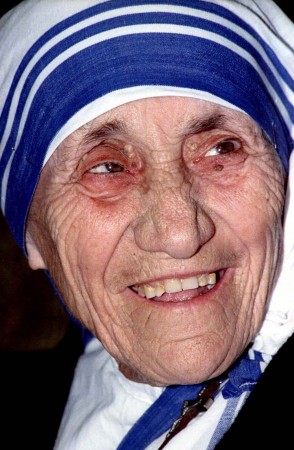 Mother Teresa, born in 1910 in Macedonia's capital city of Skopje, will be canonised as a Roman Catholic saint by Pope Francis of the Vatican on Sep. 4 following which she will be known as Saint Teresa, 19 years after her death.
Thousands of people are expected to gather in front of St Peter's Basilica in Rome on Sunday for the canonisation service by Pope Francis, the leader of the world's 1.2 billion Roman Catholics.
Mother Teresa, whose real name was Agnes Gonxha Bojaxhiu, was an Albanian Catholic nun and the youngest child of Nikola and Drane Bojaxhiu. Agnes was fascinated by the stories about the lives of missionaries and their selfless service in Bengal, according to a biography written by Joan Graff Clucas. She was convinced that she wanted to commit herself entirely to the religious life at the tender age of 12.
Agnes came to India in 1929 and stayed in Darjeeling where she learnt Bengali and taught at St. Teresa's School. She officially took her vows as a nun on May 24, 1931 and adopted the name Teresa.
Teresa later served as headmistress at the Loreto Convent School in Calcutta (now known as Kolkata), but was constantly disturbed by the poverty she saw in the city following which she began her missionary work in 1948. The Vatican gave her permission to start the Missionaries of Charity in Kolkata in 1950. The mission being, in Mother Teresa's words, to look after "the hungry, the naked, the homeless, the crippled, the blind, the lepers, all those people who feel unwanted, unloved, uncared for throughout society, people that have become a burden to the society and are shunned by everyone."
Her selfless work among the poverty-stricken people of Kolkata was respected, recognised and acclaimed across the world. Mother Teresa won the Nobel Peace Prize in 1979 for her work and was also awarded the Bharat Ratna in 1980.
Mother Teresa died nine days after her 87th birthday on Sep 5, 1997. The Missionaries of Charity, which began with just 12 members, now has over 4,000 nuns taking care of the poor and the underprivileged in Kolkata.
"There is no change in our way of treating the sick and dying - we follow the same rule that Mother had introduced. Any good work will be challenged - but if the work is genuinely good it will survive such criticism and carry on to be God's true work," Sister Nicole was quoted as saying by the Times of India. She runs Nirmal Hriday Mother Teresa's Home for the Dying Destitutes in Kolkata.