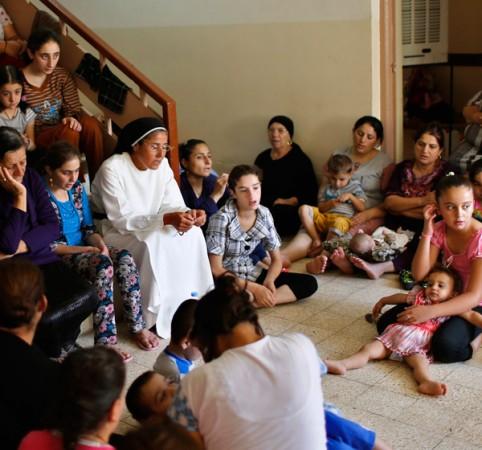 The Islamic State militants reportedly have issued a new order asking all students to pay a monthly education tax for attending schools and colleges in Mosul, the second largest city of Iraq.
The funds collected from the schools and colleges will be used for helping the ISIS campaign in Iraq and Syria.
However, for the parents of the children, this is an additional burden, especially as education has been completely state-funded since 1974. The new order makes it mandatory for all students to pay the monthly education tax.
The ISIS also issued a complete list of 'education tax' slabs, which has been distributed to all schools and colleges in Mosul.
The education tax is applicable to students attending kindergarten to undergraduates wanting to pursue a degree.
| | |
| --- | --- |
| ISIS 'Education Tax' Criteria | Amount |
| Kindergarten Students | 25,000 Iraqi dinars ($21) |
| High School Students | 50,000 dinars ($42) |
| Undergraduates | 75,000 dinars ($62.50) |
Worried over the new taxation rule issued by ISIS, a mother of three, who spoke to NBC, said that considering the present economic situation in the country, it was a challenge for families to pay-up the monthly fee.
"This is too much for me," the mother told the news outlet over phone. "We are living under very bad financial conditions here in Mosul."
The woman, whose identity has been withheld for safety reason, said that now her husband will have to work more number of hours, but then finding work was even a harder task.
Mosul has been under the control of ISIS since June and only recently the group allowed schools and colleges to reopen for new sessions.
The ISIS has issued a new curriculum, which bans music, art and history lessons from the school syllabus.
The ISIS guidelines for schools and colleges also called for segregation. And as per the new rule only men can teach the boys, while the girls will be taught by women.
According to a New York Post report, many parents in Mosul fear that ISIS will 'brainwash' their children and have stopped sending them to school, and instead are home schooling them.
"They will brainwash them and contaminate their thoughts," Mosul resident Abu Hassan told the daily. "What's important to us now is that the children continue receiving knowledge correctly, even if they lose a whole academic year and an official certification."