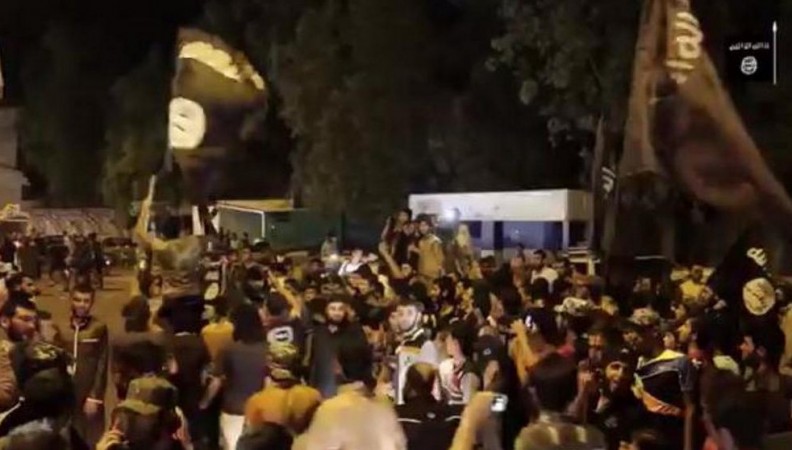 The Islamic State (Isis) militants in Mosul celebrating the "great, Ramadi victory" opened indiscriminate gunfire that left several civilians injured, a media monitoring agency reported.
According to Mosul Eye, an underground media activist group monitoring the activities of the militant group inside the second largest Iraqi city, the euphoric Isis fighters opened fire without noticing that there were people on the roof.
Late on Sunday night, after reports came in that some 150 Isis fighters were able to defeat a trained Iraqi army of 6,000 soldiers, the Isis in Mosul marked the victory with celebration.
A Vocativ report narrating the scene inside the Iraqi city noted: "...jubilation filled the streets of the Iraqi northern city of Mosul, as men and boys loyal to [Isis] waved flags, honked horns and stopped traffic to celebrate the weekend's fall of the western city of Ramadi to the Islamic State."
However, amid all this celebration, some of the militants opened gunfire in the air without noticing that dozens of Mosul residents, mainly women and children, were standing on the roofs.
"People were on rooftops watching, and that's how most were injured," the Mosul Eye report noted.
Isis in Mosul on Monday released a video purporting to show Mosul residents, including young children waving Islamic State flags and cheering. In the video, an excited Isis fighter says it is only a matter of time before entire Iraq is taken over by the Islamic State.
"As the Caliph said the day before yesterday, the conquest of Anbar is just the beginning of the conquest of Baghdad, Najaf and Karbala. We will be smashing idols and shrines over the heads of their owners, God willing. Now the conquest has begun, now the fighting has begun."
Isis for the last several weeks has been engaged in a pitched battle with the Iraqi security forces in Ramadi. Finally, on Sunday, assisted by a series of suicide attacks, the Sunni militants finally managed to chase out a large Iraqi army, who left behind dozens of military vehicles, including tanks to be captured by the Isis fighters.
Ramadi is the second provincial capital in Iraq to be captured by Isis. Mosul, the second largest Iraqi city, was taken over by Isis in June last year.