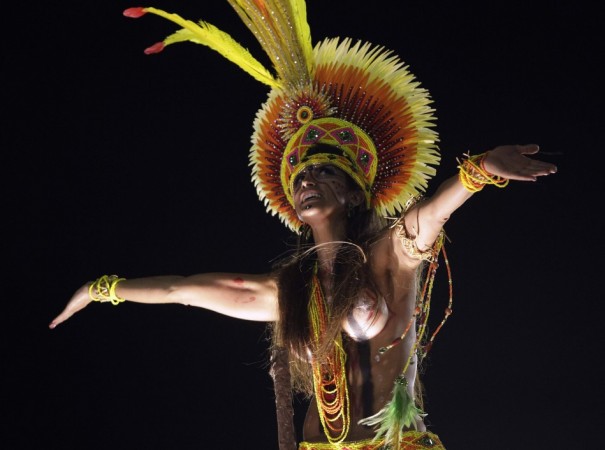 The streets in Rio de Janeiro were not the same with scantily clad beauty queens and Samba dancers parading to the beats of explosive music ever since the Rio Carnival 2013 began on Saturday.
[PHOTOS OF MOST GLAMOROUS REVELLERS AT RIO CARNIVAL 2013]
Rio Carnival is a four-day celebration that begins on Saturday and ends a day before the Lenten season begins on Ash Wednesday. It is celebrated in almost all the Catholics countries but the Carnival in Rio de Janeiro is no dount the most popular.
The Samba Parade at the annual Rio Carnival is different from other countries. Dancers from several samba schools compete at the festival based on a particular theme chosen for the year. It has turned into a highly orchestrated show with every participator having a specific role.
Rio Carnival 2013 saw hoards of revelers competing for the Queen of Carnival title. A panel of judges chooses the winner based on beauty, self-assurance, sociability, ease of expression, congeniality and samba abilities and carnival spirit.
According to the Rio-carnival.net, a Samba Parade between the schools is judged based on ten categories - Percussion Band, Samba Song, Harmony, Flow and Spirit, Theme of the Year, Overall Impression, Floats and Props, Costumes, Vanguard Group and The Flag Carrying Couple. Each category is judged by a panel of four judges.
Some samba schools have as many as 5,000 performers, and it's the drum queens who bring the parade to life. The drum queens are dancers chosen to represent the rhythm and beauty of the a particular samba school.