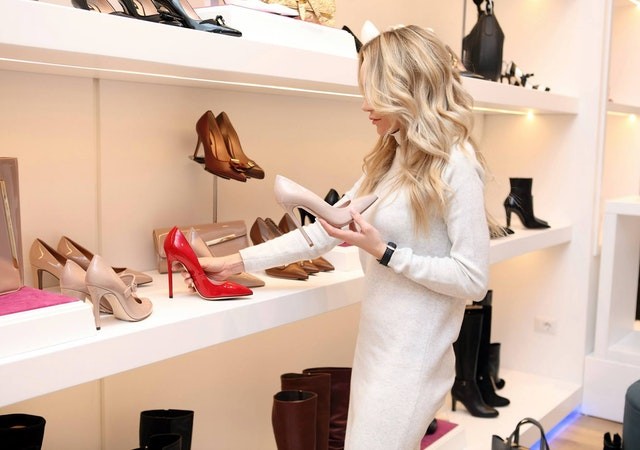 Demand for women's footwear has always been high. The right pair of footwear complements her outfits. And, it has become an inevitable part of her fashion wardrobe.
Many fashion designers spend a lot of time designing different models of footwear for women, including flat footwear, high heels, wedges, gladiators etc. For most women, it is difficult to pick the right one from the voluminous range.
Don't worry, we'll help you out. Read on and walk down in the fashion aisle with confidence. Check out the trendy collection of women's footwear:
1. PUMPS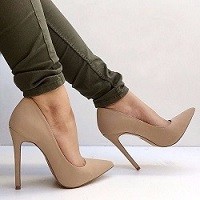 These types of heels have become a passion for many women. Pumps have no buckles or any other adornments. Hence, it gives her a complete formal look. Pumps often hit the market in stunning colours.
Tip: To get the best dress combo, match your belt with the colour of the pumps you are wearing.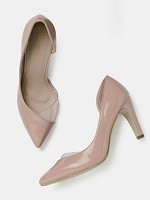 DressBerry Pink Glossy Pumps
Love these pair of glossy pumps! These point-toe heels are worth the price. Its synthetic patent upper and cushioned footbed make the pumps more comfortable.
Price: Rs. 2599 | Offer price: Rs. 1039
2. FLATS
Many fashion enthusiasts have a misconception that heels make them more fashionable. Though heels are a signature footwear for a number of fashionistas, flat sandals have found its own place in the footwear industry, popularly accepted by women of all ages.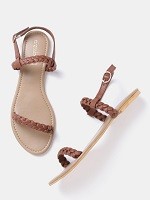 DressBerry Braided Open Toe Flats
Simple and stylish! Here is a pair of open-toed flats with side buckles. Its cushioned footbed ensures a comfortable fit. These flat sandals match with any type of attire and is during sunny weather.
Price: Rs. 1299 | Offer price: Rs. 909
3. WEDGES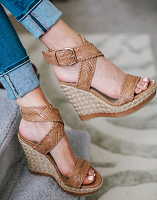 Now, boast about your casual look and show off your height proudly with a pair of wedges. While adding an elegance to feet, wedges have a lot more area to balance on. Present yourself confidently in wedges with any costume.
Mast & Harbour Wedges with Laser Cuts
Buy an impressive pair of wedges from Mast & Harbour. This footwear comes with several styling features. Your feet become more attractive with its laser cuts and side buckle.
Price: Rs. 1999 | Offer price: Rs. 799
4. BOOTS
Don't you want to look great whenever you go out this winter? Then, your personal shoe rack definitely needs a pair of boots. Be it knee-length or ankle-length boots, this must-have footwear is meant for women who love to go trendy. It not just gives you a classy look but provides enough warmth and comfort to your feet.
Tip: Wear your boots with dark tights and casual tops with a pullover jacket.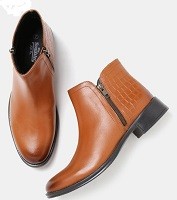 Roadster Mid-Top Genuine Leather Flat Boots
These flat boots in solid tan mark your identity. Made of genuine leather, these mid-top boots are a conventional piece of footwear. Leave your hair open and walk out confidently in these boots.
Price: Rs. 3499 | Offer price: Rs. 1749
5. GLADIATORS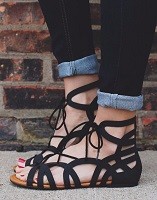 Tracing its history to ancient Roman gladiators, these are the remodeled footwear, named after them. Being one of the biggest trends, gladiators are fabulously stylish and elegant. Its strappy appearance gives a versatile look. Styles of gladiator sandals form a knee-high to short ones.
Qupid Tie-Up Gladiators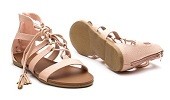 Hug your ankles with a perfect fit of gladiators. A pair of gladiator sandals is inevitable for all women who keep a rigorous fashion sense. Zip closure, tie-up detail, textured synthetic upper with cut-out detail are the key features of this nude-coloured gladiators.
Price: Rs. 2699 | Offer price: Rs. 1889
6. ESPADRILLES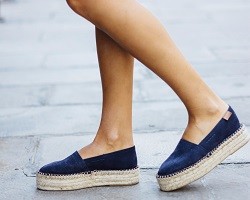 Shoes with canvas upper and rubber soles—the espadrilles have a braided jute rope at the edge. If you are not a heel girl, opt espadrilles for a great chic look. It perfectly matches with any casual wear.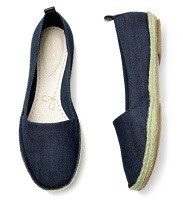 Clarks Navy Denim Espadrilles
Here is a pair of typical summer footwear! These round-toe denim espadrilles have a slip-on detail. Decorative jute braid, cushioned upper offer a comfort fit. Combine the espadrilles with any casual attire for better results.the
Price: Rs. 3999 | Offer price: Rs. 1999
7. LOAFERS
The classic loafers are essential footwear in women's fashion. Loafers are normally flat or with low heels. It can complement a formal outfit or a casual dress. Ideal for a long wear, the lace-less shoes come in a variety of colours.
Mochi Red Solid Loafers
The red delight from Mochi is just a click away! Fits perfectly with your personal style, the solid red loafers come with round-toe edges to ensure more comfort to the feet. The red loafers are ideal for a business meeting or a casual day out.
Price: Rs. 1990
8. SNEAKERS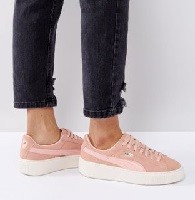 Nowadays, you see sneakers everywhere. At work or gym— wear it anywhere. A good pair of sneakers fulfils your physical activities such as jogging or running. Sneakers can give a comfortable fit to the feet throughout the day.
Tip: Wear sneakers with a ripped jeans and a casual top. A high bun hair updo will complete your look.
Lee Cooper Pink & Grey Colourblocked Sneakers
Don't compromise on your style anymore. Here is a pair of pink and grey colourblocked sneakers to ensure your fun-filled days.
Price: Rs. 2199 | Offer price: Rs. 1429
9. MULES
Don't you have enough time to strap or buckle your footwear? Then mules are just for you. Since these are easy to wear, many working women consider mules as the best footwear to use. These are simply backless shoes and ideal for any occasion.
Chumbak Woven Design Synthetic Mules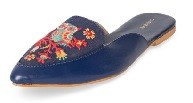 Chumbak mules help you add some swing to your steps. It is the best office wear for working ladies. The versatile pair of mules is easy to put on and remove from the feet. This pair will look great with ankle length jeans.
Price: Rs. 1795
10. BROGUES
Classy and stylish. Women's brogues are always attractive with their beautiful perforations. A brogue is recommended for any formal occasions. Its trailblazing perennial design conveys your elegance effectively. It goes with any formal wear.
Shoetopia Flat Brogues
Don't hesitate to grab the most buttery pair of brogues? Nothing beats the traditional elegance of these brogues. Its cushioned sole gives it a comfier appearance.
Price: Rs. 999 | Offer price: Rs. 749