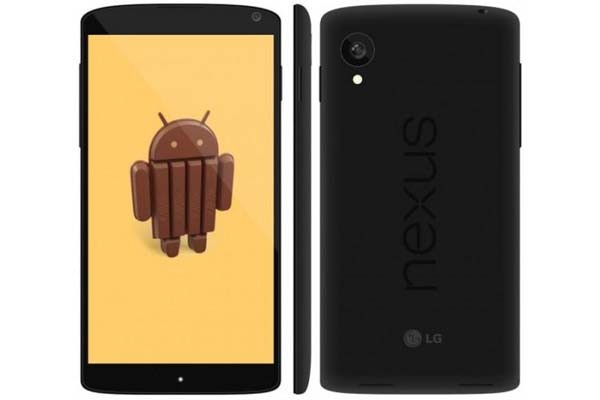 Google's LG-assembled Nexus 5 is expected to arrive with the latest Android 4.4 KitKat OS on 14 October 2013. The much anticipated Nexus 5 is said to replace its previous iteration, Google Nexus 4.
Specifications of Nexus 5 have been revealed through leaked snapshots and FCC photos. However, Google is yet to make the specifications and other features official.
Here are some of the features that are expected to arrive with Google Nexus 5.
Design and Display: Google Nexus 5 with LG carrier is rumoured to follow LG's G2 handset pattern, leaving enough room to speculate whether the device will sport a 5-inch screen. The upcoming Nexus 5 might come with a 5-inch True HD IPS Captive Touch Screen with a good sunlight readability (441 ppi) which is the same pixel density in Samsung Galaxy S4.
A major portion of Nexus 5's front body will form the display as the device is said to be thinner, smaller and less wider than its previous iteration Nexus 4, along with an increased screen size.
Better Camera Features: Nexus 5 is expected to come with an updated camera feature which is likely a 13-megapixel shooter with HD video recording. The secondary camera will also be available, but its sensor size is not yet known.
PC Advisor states that the device may feature a 16-megapixel rear camera created by Nikon, one of the leading camera brands.
Under-The-Hood Upgrades: Since Nexus fans are expecting something more from the next version of the Nexus handset, Google is trying its best to upgrade the handset specifications from Nexus 4. Android 4.4 KitKat OS is expected to debut in the market with Nexus 5 powered by the latest Snapdragon 800 chipset.
Nexus 5's graphics capabilities is said to be tested by Adreno 330 graphic chip, as against Nexus 4's Adreno 320, according to GSM Arena. The CPU is also expected to get a bump from the quad-core 1.5GHz Krait processor to a quad-core 2.3GHz Krait 400 processor along with 3GB RAM for smooth multi-tasking.
Android 4.4 OS Featured: Android 4.3 Jelly Bean's next version, 4.4 KitKat OS, will bring a list of new features such as visual tweaks, low battery usage, less RAM usage, Low Energy Bluetooth and others in Nexus 5 with its chocolate-type looks, making the handset have an edge over other brands.
Affordable Pricing: The pricing of the device is said to be the same as Nexus 4 which is ₹24,000 (£239) for 8GB and ₹29,000 (£289) for 16GB. However, there are chances that Nexus 5 might cost a bit more.