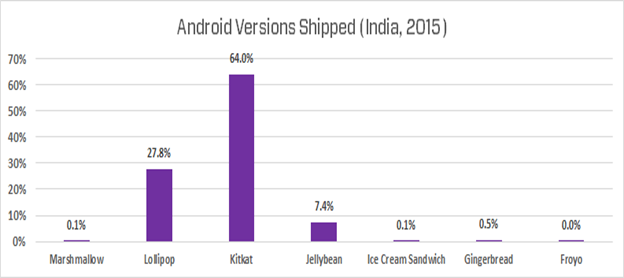 India may be one of the largest smartphone markets today with millions of handsets being sold every year, but a study by market research and consulting services firm CyberMedia Research (CMR) has found that most Android smartphones shipped to India in 2015 feature an ageing operating system that is as old as three years.
A whopping 72% of Android smartphone-buyers did not receive an update to the latest Android OS or its latest features at the time of purchase in 2015, and 64% of Android handsets shipped to India last year have the three-year-old Android KitKat OS, according to the report released by CMR. It added that just 2.3% of smartphones had a Custom ROM — Cyanogen or Oxygen — while over 95% were loaded with a proprietary user interface (UI).
It may be mentioned here that Android smartphones are leading in the Indian market. Market analyst Counterpoint Research said in a report earlier this week more than 100 million devices were sold in the country in 2015, with Samsung leading the table with 25.7% market share, followed by Micromax (16.1%), Intex Mobiles (10.2%), and Lenovo & Motorola (8.6%). So, millions of Indians could have bought handsets without an updated Android OS last year.
"With increase in commoditisation of hardware features owing to competitive pressure, smartphone vendors will need to start focusing on creating differentiation through user experience enabled by OS and software features. Typically, a consumer nowadays needs to purchase a premium-priced Smartphone to access the latest Android OS or software-enabled features," said Faisal Kawoosa, Lead Analyst, Telecoms, at CMR, in a statement.
So why is this delay in rolling out Android firmware updates to smartphones being shipped to India?
"The key reason for the delay in sending updates to existing Android smartphones is handset vendors prefer to launch new models rather than focus on updating existing ones to provide a consistent user experience," said Faisal.
The report went on to say an interview with 400 smartphone users across major cities has revealed some interesting user behaviour. According the findings, 38% of Android users update the OS at least once compared, to 96% among iOS users. It added that 77% users opt for an OS update for performance improvements, 57% to explore new features, and 43% for security and bug fixes.
"Awareness of what the update will offer plays a vital role in the adoption, and this is reflected in the findings as well. The smartphone industry as a whole needs to increase awareness about all the three hierarchies — OS, Custom ROM and UI — among users. This will enable them to appreciate the relevance of software updates and how OS-level updates can improve overall handset performance," said Satya Mohanty, Lead, End-User Research, at CMR.
The study, titled "State of Mobile Operating System Adoption in India", was conducted across 158 different smartphone brands, and covered 1,476 device models. It was released jointly by CMR and CREO, a Bangalore-based consumer technology company.